China's Vineyards Overtake France's as Europe Uproots Its Grapes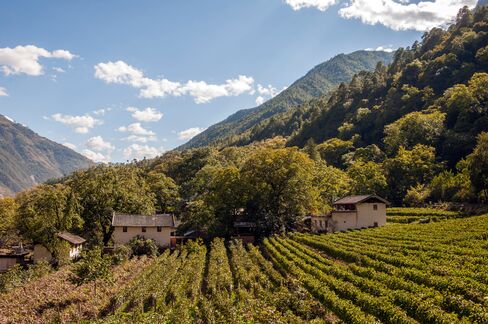 China now uses more land for growing grapes than France, the world's largest wine exporter and home of the most expensive bottles from the Burgundy region.
Chinese vine planting increased by about 5 percent last year to an estimated 799,000 hectares (1.97 million acres), according to the International Organization of Vine and Wine, known by its French acronym OIV. France's grape area slipped about 0.1 percent to 792,000 hectares.
China more than doubled its vineyard since 2000 as domestic wine consumption increased about 45 percent, with the Asian nation last year boasting close to 11 percent of the global grape area from 3.9 percent at the start of the last decade, according to the OIV. The numbers include table grapes as well as those for wine and raisins.
"It's the largest consumer of red wine," Jean-Marie Aurand, director general of the OIV, said at a meeting with reporters in Paris on Monday. "A large part of the population has reached a standard of living that allows them access to wine."
A large part of the Chinese vineyard isn't in production yet, with vines taking about five years before they start bearing a full crop, Aurand said. The future use of the grapes is unclear, though China's imports of planting material include red wine-grape varieties such as cabernet sauvignon and syrah, according to the director general.
The European Union introduced a plan in 2008 to withdraw about 175,000 hectares of vineyard from production to reduce oversupply, paying farmers a subsidy to uproot their grapes.
Shrinking Europe
Spain remained the country with the largest vineyard area last year, unchanged at 1.02 million hectares, according to the OIV data. France exported 7.73 billion euros ($8.46 billion) of wine last year, down 1.3 percent from 2013 and ahead of Italy with 5.08 billion euros of exports.
China planted about 166,000 hectares of vines in the past three years, the OIV data show. In that period, the global vine area expanded by 57,000 hectares, while Europe's vineyard shrank by about 104,000 hectares.
"China has had quite an exponential growth in the planted area," Aurand said. "Vines adapt to somewhat difficult conditions. The vines are developing in areas that are very dry, very difficult, where there is no competition with other crops."
Chinese wine consumption has increased about 45 percent since 2000 to reach an estimated 15.8 million hectoliters (417 million gallons) last year, while intake declined in France, Italy and Spain, the biggest wine producers.
The U.S. remained the largest wine consumer in 2014, with consumption rising about 2 percent to 30.7 million hectoliters, followed by France, where purchases of wine slipped about 3 percent to 27.9 million hectoliters, according to the OIV.
Before it's here, it's on the Bloomberg Terminal.
LEARN MORE