Britons With Pounds to Spend a Bright Spot in Economy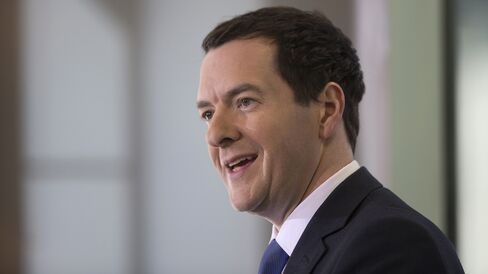 With eight days left of David Cameron's government, the British economy looks similar to the one he inherited five years ago.
Consistent with the past two decades, U.K. consumers remain central to growth, as gross domestic product data signaled yesterday. While the economy is now sustaining a recovery that eluded it in 2010, the repair job on frailties including lackluster productivity remains a work in progress.
"Consumer spending is still the driving force behind growth," said Howard Archer, chief U.K. economist at IHS Global Insight in London. "If you're going to see sustainable growth in the U.K., you need an increase in productivity, and for that you need an increase in business investment."
That imbalance provides fodder for both sides for the May 7 election. Chancellor of the Exchequer George Osborne can claim that the consumer-spending boost, now aided by a pickup in wages, helped the U.K. top the Group of Seven league table for growth last year. But the factory-powered pickup he wanted, which he described in 2011 as a "march of the makers," is not quite there yet.
The data for the three months through March showed economic growth cooled to 0.3 percent, weaker than forecast. Industrial production and construction fell and services growth eased to the least in almost two years.
But household strength stood out: within services, the largest part of the economy, "distribution, hotels and restaurants" jumped 1.2 percent, which Royal Bank of Scotland Group said reflected strength in consumer-facing industries.
Crunchy Data
In a report Wednesday, YouGov and the Centre for Economics and Business Research said their consumer sentiment index slipped to 113.1 in April from 113.9 in March. The gauge is up from 105 in April 2010, just before the last general election.
Surveys point to buoyant discretionary spending -- such as cinema tickets and holidays. In February, Britons spent about 21 percent more online shopping, 18 percent more in restaurants and 26 percent more at cafes than they did a year earlier, according to data gathered by marketing company Cardlytics.
Among those capitalizing on a post-recession surge in indulgence is 29-year-old Kevin Harvie, who left his accountancy job about two years ago to set up a sweet-potato chip company, Hectares Food Ltd.
"Just in the last three months or so consumer and business growth has definitely increased," he says. "It's just been a gradual buildup -- a combination of factors that's grown confidence among consumers."
Productivity Challenge
While Britain is still prospering, the challenge for whoever wins the election remains to boost productivity, which remains lower than before the start of the recession in 2008. The economy may struggle to maintain its pace without fueling inflation pressure unless there is a "material improvement" in output per hour, the Bank of England said this month.
Policy makers are counting on spending by companies to make up the difference. The Office for Budget Responsibility forecasts business investment to expand about 6 percent a year until the end of the decade, though it dropped sharply in the final quarter of 2014 as falling oil prices prompted extraction firms to slash spending.
Where does the economy go next? After the GDP release on Tuesday, Royal Bank of Scotland Group Plc cut its 2015 growth outlook to 2.2 percent from 2.4 percent, at the lower end of the range of predictions compiled by Bloomberg.
Productivity makes an appearance in parties' election manifestos, with Cameron's Conservatives, which has ruled in a coalition since 2010, saying the U.K. underinvests relative to other countries. The opposition Labour Party said it will "improve productivity by building a long-term investment culture in the private and public sectors."
It is difficult to link the effect of any policy to productivity outcomes, said Helen Miller, a senior researcher at the Institute for Fiscal Studies. The manifestos have "some initiatives on broad things about investing in start-up finance or innovation, but it's not central," she said.
"This could be a bad number for the coalition considering its trump card is the economy," said Alan Clarke, an economist at Scotiabank. "It's very fashionable to say they're going to do something about productivity, but whether they can come up with tangible results after a period of four to five years is a bit more questionable."
(Corrects spelling of Kevin Harvie in ninth paragraph.)
Before it's here, it's on the Bloomberg Terminal.
LEARN MORE