Austria Has Its Own Little Greece to Deal With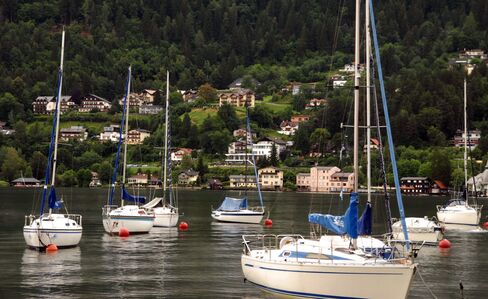 They splurged until the debt crisis pulled the rug from under them. Then creditors forced them to change course, while politicians are resisting demands for more austerity and are toying with insolvency.
Rather than Greece, this is Carinthia, the Austrian province of 556,000 people bordering Italy and Slovenia. The region is resuming talks on Thursday about a 343 million-euro ($375 million) emergency loan from the Treasury to avoid running out of money for salaries and payments due in four weeks.
"Nobody wants to leave Carinthia in the lurch," Austrian Finance Minister Hans Joerg Schelling said on Tuesday. "But Carinthia should slowly realize how severe the situation is. I won't let Carinthian politicians put the blame for this disaster on the federal government."
Like Greece, whose government remains locked in talks with its euro area counterparts on avoiding a default, the money the Austrian region is seeking is only a temporary lifeline and a prelude to a bigger cash crunch down the road.
Carinthia has 10.2 billion euros of bonds of Heta Asset Resolution AG coming due next year. Heta is the entity that's left of the province's former state-owned lender Hypo Alpe- Adria-Bank International AG after its assets were sold.
Haider's Largesse
Hypo Alpe could borrow cheaply thanks to the province's guarantees on bonds issued before 2007 and expiring before 2017. The borrowing peaked at 25.7 billion euros, equivalent to more than 10 times Carinthia's budget.
The debt was guaranteed when Joerg Haider, the nationalist leader who died in a 2008 car crash, was its governor.
The lender paid fees for the guarantees, which Haider used to fund perks like an "inflation compensation" payment he handed out to Carinthians personally and in cash. Women received a 500-euro payment when they gave birth. Driving licenses for teenagers and car fuel were subsidized.
"Nobody can tell you realistically what will happen if Carinthia doesn't pay for the guarantees and the federal government doesn't jump in," said Gottfried Haber, an economy professor at the Donau University in Krems. "Except that there would be enormous consequences in the financial system."
Carinthia's Court
Austria nationalized Hypo Alpe to avoid it collapse under bad loans as Carinthia and majority shareholder Bayerische Landesbank walked away in 2009. It injected 5.5 billion euros since 2008 to ensure the bank could pay its debt, to the rising discontent of voters elsewhere in Austria.
Schelling put the ball back in Carinthia's court on March 1 when he said he wouldn't spend any more taxpayers' money on Heta. He said the federal government isn't liable for Carinthia's debt or the guarantees under Austrian law.
Less than a week later, Moody's Investors Service cut Carinthia by four levels to Baa3, one level above junk. Governor Peter Kaiser, a Social Democrat who opposed Haider in the 2000s, said Carinthia lost market access and needed a federal loan.
"These 10.2 billion euros are threatening the future of our province," Kaiser said in an interview with ORF television late Tuesday. "We have to do everything so that this sword of Damocles disappears, and by that I mean Carinthia as well as the federal state."
Creditor Talks
The Austrian 10-year bond yield widened 3 basis points to 0.3 percent today, the third-lowest in the euro area. Carinthia will have to pay a premium on that when it borrows the emergency funds from the Treasury.
Schelling has urged the province to seek talks with creditors to avoid reneging on payments.
The province has money it set aside when it sold a majority stake in Hypo Alpe to BayernLB in 2007. Labeled "Fund for Carinthia's Future" by Haider, the federal government so far failed to extract money from Carinthia since rescuing Hypo Alpe. The fund, along with assets that could be sold, would be targeted should Carinthia go insolvent.
Schelling also had talked of a voluntary haircut for bondholders, which could be done by way of a bond purchase by Carinthia at a discounted rate. If the province came to him with a deal, the federal government would look at ways to help it with liquidity, he said Tuesday.
With Heta's 2 billion-euro bond due 2017 trading at 58 cents in the euro, however, it may be hard to offer a premium big enough to entice holders to agree to a deal.
"The problem is that many investors who anticipated this very scenario stocked up and may not be willing to sell," said Haber, the professor. "Every scenario in which the guarantees aren't honored is unrealistic. Carinthia has to pay them."
Before it's here, it's on the Bloomberg Terminal.
LEARN MORE