You're in Jail but Not Convicted. What Can the Guards Do to You?
They slammed Michael Kingsley onto a concrete bunk, he says, and shouted 'Taze his ass!' The U.S. Supreme Court hears Kingsley v. Hendrickson today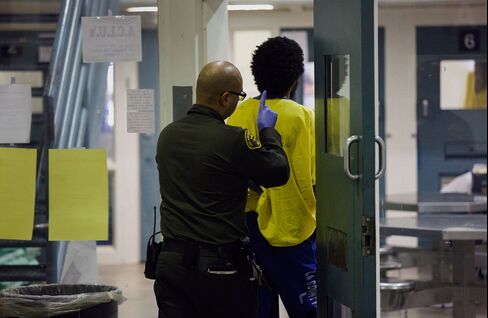 Are you really innocent until proven guilty?
Kingsley v. Hendrickson, being heard today by the U.S. Supreme Court, is about whether people in jails who have not yet been tried should be treated differently from those who have already been convicted. This goes to the core of the presumption of innocence, one of the oldest tenets of our legal doctrine. Yet here it is, in 2015, in front of the high court.
"The most surprising thing about this case is that we haven't figured this out already," said Lisa Soronen, executive director of the State & Local Legal Center in Washington, D.C., a group that argues on behalf of state and local government interests in Supreme Court cases. In fact, Soronen believes pretrial and post-trial prisoners should be treated exactly the same. "Otherwise it would be a mess," she said.
Michael B. Kingsley, 33, was arrested in April 2010 after police found him with cocaine in Tomah, a small city in Wisconsin. He would later be charged with manufacturing and delivering cocaine, among other charges. He was detained in Monroe County Jail and did not post bail.
In May 2010, well before his trial, a deputy in the jail visited Kingsley's cell and asked Kingsley to take down a piece of paper taped to a light cover above his bed. Later, the deputy returned to find that Kingsley hadn't removed the paper, so he went to his commanding officer, Sgt. Stan Hendrickson, who issued Kingsley a "minor violation." The cycle continued until deputies were ordered to remove Kingsley from his cell and transfer him to segregated housing—another name for solitary confinement—as punishment for not following orders. Court documents don't explain the fuss over the paper, but in a federal civil rights lawsuit Kingsley filed in federal court in December 2010, "Plaintiff stated that he was not going to attempt to jump off the cell bed and reach and grab the paper off the light cover."
In Kingsley's account of the transfer to solitary, Hendrickson, Deputy Fritz Degner, and other jail officers forced him face down and prone on his cell bed. Kingsley admits he resisted, asking, "Why? What for?" In his cell, they handcuffed his hands behind his back—"extremely tight," he wrote—before pulling him forcefully to his feet. That caused his feet to "slam against the cell's bed frame causing extreme pain and discomfort" so severe that he couldn't immediately walk.
So the officials dragged him through the jail to a segregated housing cell, he wrote. There, they slammed him onto his bed, a concrete slab as Kingsley described it, and tightened his handcuffs instead of removing them. Kingsley said, "Get the f--- off me!" He says he then heard Hendrickson say, "Taze his ass!" and that Degner did, administering a severe electric shock.
These actions constituted excessive force that violated his civil rights, Kingsley argued in the lawsuit. The case went to trial in the local district court, where a jury decided to dismiss Kingsley's case.
And that's where the issue at the heart of the Supreme Court case arises. In appealing the district court's decision, Kingsley argued that the jury was incorrectly instructed on the standards for determining whether Degner had used excessive force.
When a free citizen files civil rights charges against an officer, he does so under the Fourth Amendment ban on unreasonable searches and seizures. In these cases, citizens need only prove that the actions of the officer were unreasonable. The officer's intent—and whether or not the officer acted recklessly—doesn't matter.
When a convicted prisoner files civil rights charges against his jailers, the Fourth Amendment doesn't apply. The prisoner is instead required to prove that his rights were violated under the Eighth Amendment ban on "cruel and unusual punishments." This involves not only showing that the punishment itself was cruel and unusual but also proving that the actions of the jailers were reckless—that they showed deliberate, subjective intent to inflict harm. Those rules for civilians and convicted prisoners are well established.
Not so for pretrial detainees, who file their civil rights charges under the 14th Amendment's Due Process clause: "...nor shall any State deprive any person of life, liberty, or property, without due process of law."
The problem confronting the high court today is that the law isn't clear on whether pretrial detainees must prove recklessness when they accuse their jailers of civil rights violations.
In his appeal, Kingsley pointed out that the word "reckless" was used repeatedly in the jury's instructions. The jury was asked, in other words, to lump Kingsley in with convicted prisoners for the purposes of his civil rights claim, even though he hadn't been convicted of a crime at the time. (He eventually pleaded no contest to a cocaine charge and was sentenced to three years in prison.) Kingsley argued that was unfair, and that his allegations against the officers hadn't been given a fair shake in court as a result.
A three-judge panel for the Seventh Circuit Court of Appeals in Chicago disagreed. In its majority opinion, the panel wrote that "the existence of intent—at least recklessness—is a requirement in Fourteenth Amendment excessive force cases," referring to Titran v. Ackman. In that case, a woman sued after being treated roughly by jail officers, and the Seventh Circuit appeals court wrote that "if the officers intentionally restrained, jolted, and roughed up Titran without physical provocation from her, their behavior was unreasonable."
One of the judges on Kingsley's panel, David Hamilton, took a different view. Hamilton wrote that "the district court's jury instruction on excessive force added an unnecessary and confusing element of 'reckless' conduct or purpose to the required elements of plaintiff's claim." Kingsley should get a new trial, Hamilton wrote. "That way we could avoid the puzzle posed by the majority opinion: When does the Constitution allow law enforcement and correctional officers to use objectively unreasonable force against a person not convicted of a crime?"
Now, the Supreme Court's decision may affect not only others in Kingsley's situation but also the way jails are run.
Most jails house two kinds of inmates: those who are awaiting trial and those who have been convicted of relatively minor offenses, crimes that typically carry sentences of less than two years. Prisoners, both the convicted and the unconvicted, are intermingled in these facilities. There's a reason for this, said Craig Campbell, who ran the Travis County Jail in Austin, Texas, for six years and is now an associate professor of public safety management at St. Edward's University in Austin.
"There's just so many people going in and out of these facilities all the time," he said. "It's chaotic. If you've got an open bed, it's gonna be filled. The people who run jails don't pay attention to who's been charged with what. They're just acting on behalf of the court. They detain the people who need to be detained."
If the Supreme Court decides that convicted prisoners and pretrial detainees need to be treated differently, jails might need to begin separating the detainees from the the convicts. Campbell agrees with Lisa Soronen of the State & Local Legal Center on that point: "It could get messy," he said, and expensive. "You might have to rebuild jails, hire new people."
That's a small price to pay, according to the American Civil Liberties Union. In an amicus curiae brief filed on behalf of Kingsley, it argues that "a culture of endemic guard-on-detainee violence characterizes many of our Nation's pretrial-detention facilities, underscoring both the need for strong constitutional protection of detainees and the inadequacy of subjective intentions as a reliable source of that protection."
Furthermore, violent convicted criminals aren't the only people in these facilities, Laurence J. Dupuis, the legal director of ACLU of Wisconsin, said.
"Jails are full of people who are there largely because they can't afford bail, most of them are there on relatively minor charges, and the people who are there on serious charges are typically separated from the rest of the population anyway," Dupuis said. "So the only reason to separate pretrial detainees from everyone else would be to get away with something against one group of people that [jail officers] couldn't get away with against another. I don't understand why they would want to do that."
Before it's here, it's on the Bloomberg Terminal.
LEARN MORE