Tokyo Electron Slumps Most Since 1982 as Takeover Bid Scrapped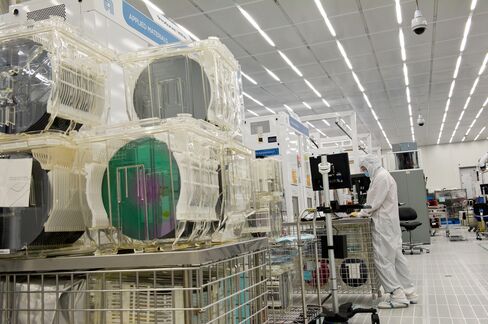 Tokyo Electron Ltd. fell the most in more than three decades after Applied Materials Inc. scrapped its $9.39 billion takeover bid for the maker of chipmaking equipment amid opposition from the U.S. Department of Justice.
The stock fell 15 percent to 6,557 yen in Tokyo, the biggest drop on closing basis since 1982 according to data compiled by Bloomberg. The deal was pulled after the companies weren't able to allay government concerns about the potential impact on competition, according to a statement Monday.
Tokyo Electron and Applied Materials first announced plans to combine through an all-stock deal in September 2013 as a shrinking base of chipmakers makes the earnings of equipment suppliers more volatile. Last Friday, Comcast Corp. also decided to drop its $45.2 billion offer for Time Warner Cable Inc. after objections from the Justice Department and Federal Communications Commission.
"Investors are disappointed. People expected the merger to create a market leader," Mitsushige Akino, Tokyo-based executive officer of Ichiyoshi Asset Management Co., said of the aborted chipmaker deal. "Now Tokyo Electron has to find a way to go it alone. If it doesn't, we can expect the shares to fall."
Applied Materials dropped 8.4 percent to $19.97 in New York. The shares had declined 20 percent this year, compared with a 2.4 percent gain in the Standard & Poor's 500 Index.
Applied Materials and Tokyo Electron separately announced plans to buy back stock.
Preserving Competition
The Justice Department's antitrust division said in a statement that the remedy proposed by the companies wouldn't replace competition lost from the merger, particularly in the development of equipment for next-generation semiconductors. The government didn't provide details of the settlement proposal.
"The companies' decision to abandon this merger preserves competition for semiconductor manufacturing equipment," said Renata Hesse, a deputy assistant attorney general. "The semiconductor industry is critically important to the American economy."
Santa Clara, California-based Applied Materials announced plans to buy back $3 billion of stock, while Tokyo Electron, with headquarters in Tokyo, will purchase 120 billion yen ($1 billion) of its own shares, according to separate statements.
Shrinking Customers
The companies make machines that prepare silicon wafers for imprinting with the circuits that turn them into processors capable of crunching numbers, showing video and connecting to mobile networks, among other tasks.
Intel Corp., Taiwan Semiconductor Manufacturing Co. and Samsung Electronics Co. now buy the majority of the production machines deployed by the industry and are the top three customers of both companies, according to data compiled by Bloomberg.
"Based on the DOJ's position, Applied Materials and Tokyo Electron have determined that there is no realistic prospect for the completion of the merger," Applied Materials said.
Neither company will pay termination fees.
"I'm not convinced but the conclusion has been made. I have no choice but to accept it," Tokyo Electron Chief Executive Officer Tetsuro Higashi told reporters. "It's a regrettable outcome. I feel that it's a real shame."
Before it's here, it's on the Bloomberg Terminal.
LEARN MORE