The Spectacular Collapse of For-Profit Corinthian Colleges
From $33 per share to less than two cents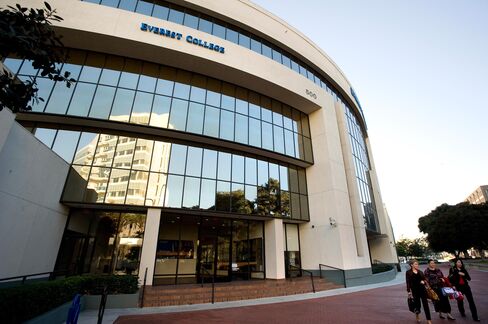 For-profit education company Corinthian Colleges announced that, effective today, it is shutting down all of its 28 remaining campuses. That will mean no more classes for approximately 16,000 students attending Corinthian's various trade schools, including the 150-year-old Heald College. It also means the end of a long collapse for a once-hot company.
The stock, which once traded around $33 a share, is now worth less than $0.02. Corinthian stock peaked in March 2004, but then quickly nosedived after a report that the colleges may have participated in some improper financial aid dealings. From June 24, 2004:

Things remained mostly level (though far below that earlier peak) until 2010, when one of their schools, Everest College, had its accreditation threatened. The Department of Education also reported that less than 24 percent of its former students were repaying their government loans, potentially threatening the ability of future students to get financial aid from the government.
Here is their all-time stock chart: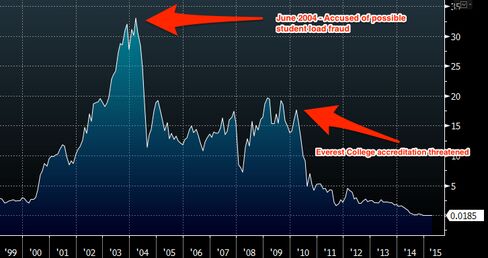 The final straw came last year, when the Department of Education put Corinthian on heightened oversight, amid more questions of impropriety. The investigation looked into falsifying of grades and job placement data, and severely restricted Corinthian's ability to draw on federal student aid. As a result, the company warned it might be "unable to continue as a going concern" — a prediction that came true today.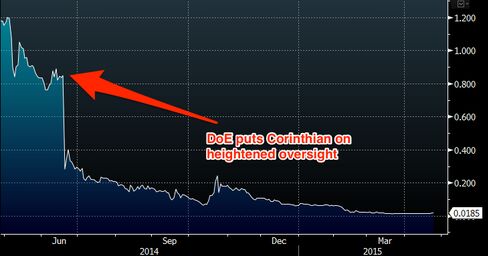 Before it's here, it's on the Bloomberg Terminal.
LEARN MORE