PetroChina Profit Falls to Lowest on Record as Oil Declines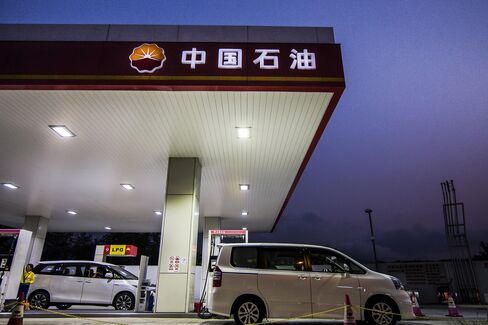 PetroChina Co. posted its lowest quarterly profit on record as weaker oil prices took their toll on earnings. The result missed some analysts' estimates and its shares dropped.
Net income at China's biggest oil and gas producer fell 82 percent to 6.15 billion yuan ($991 million) from 34.2 billion yuan a year ago, the company said in a statement Monday.
"We expect this to mark the low point for the year," Neil Beveridge, a Hong Kong-based analyst at Sanford C. Bernstein, said in an e-mail. "As oil prices recover in 2015, so should earnings," he said, noting that the result was lower than the consensus forecast.
Beijing-based PetroChina joined Cnooc Ltd., China's biggest offshore oil and gas explorer, in reporting a decline in earnings after Brent, the benchmark for half of the world's crude trading, tumbled 42 percent over the past ten months. PetroChina's profit was the lowest since 2007, when Bloomberg started compiling quarterly data on the company.
Its shares fell 5.1 percent to HK$10.10 as of 9:48 a.m. in Hong Kong, compared with a 0.3 percent decline in the city's benchmark Hang Seng Index.
Sales fell 22 percent to 410.3 billion yuan while the average realized crude price dropped 51 percent to $48.87 a barrel from a year ago, according to the statement. Oil and gas output rose 4.9 percent to 381.2 million barrels of oil equivalent in the quarter.
Refining Business
"The exploration and production segment performed well in the first quarter even as low crude prices dragged down margins," said Laban Yu, a Hong Kong-based analyst at Jefferies Group LLC, who has a buy recommendation on the stock. "The refining business will get better as high-priced crude imports were used up this quarter."
Macquarie Group's Hong Kong-based analyst James Hubbard saw two bright spots in the earnings -- narrowing losses on gas imports and cost controls -- which "continue to form part of our longer-term investment thesis," he wrote in a note.
PetroChina shares had jumped by their daily limit of 10 percent in Shanghai trading on Monday after a report that China may merge state-owned companies in the industry led to speculation of a tie-up with China's no. 2 oil producer, China Petroleum & Chemical Corp., or Sinopec.
According to statements from PetroChina's parent, China National Petroleum Corp., and Sinopec, the companies haven't heard from the government or talked with each other on the matter.
Rally Unjustified
The rally looks unjustified as merging the companies would only create the need for massive cuts in staffing levels, which the government wouldn't allow, Citigroup analyst Graham Cunningham said in a note. The near-monopoly position of a combined company would also hurt efficiency, he wrote.
PetroChina's 2015 profit may drop 47 percent to 56.6 billion yuan, according to the mean estimate of 27 analysts compiled by Bloomberg.
Sinopec, which saw its no. 2 official resign on Monday as part of the government's escalating crackdown on corruption in the oil sector, is expected to report a 1.88 billion yuan loss when it reports first-quarter earnings on Wednesday, according to the average estimate of four analysts compiled by Bloomberg.
Before it's here, it's on the Bloomberg Terminal.
LEARN MORE