Jeff Bezos Is Now Richer Than Three of the Four Wal-Mart Heirs
The Amazon founder just got a big boost from his company's earnings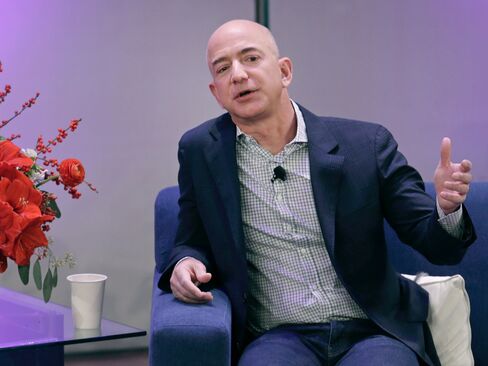 Amazon.com Inc.'s first-quarter results sent a jolt into the fortune of Jeff Bezos Friday, making him richer than three of the four Wal-Mart heirs, according to the Bloomberg Billionaires Index. The online shopping giant increased sales 15 percent, beating analysts expectations, and broke out results for its Web Services cloud computing unit for the first time. Bezos's fortune jumped $4.9 billion to $40 billion making him the world's 10th-richest person. The jump puts him on par with Wal-Mart founder Sam Walton's daughter-in-law, Christy Walton, the richest woman in the U.S.
Walton's sons Jim and Rob are ranked 11th and 12th with $38.5 billion and $37.4 billion respectively. Alice Walton is ranked 15th with $36.7 billion.

Research for the post is derived from Bloomberg Billionaires Index data. You can follow index updates on Twitter @bbgbillionaires.
Before it's here, it's on the Bloomberg Terminal.
LEARN MORE