Japan, U.S. Hail Tighter Alliance as China Military Might Grows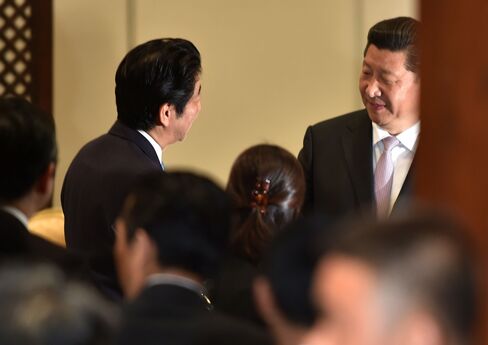 Japan and the U.S bolstered their strategic alliance for the first time in almost two decades as they seek to respond to China's increasingly assertive posturing in the Asia-Pacific region.
New defense guidelines released Monday in New York expand U.S.-Japanese cooperation around the globe and into space and cyberspace. Japan will take on a more robust role that potentially includes cooperating with the U.S. to intercept ballistic missiles and protect ships, according to the new document.
U.S. Secretary of State John Kerry praised the guidelines as a "historic transition" in a joint press conference with Defense Secretary Ashton Carter and their Japanese counterparts Fumio Kishida and Gen Nakatani in New York.
The expanded alliance is the main policy announcement of Prime Minister Shinzo Abe's trip to the U.S., where he will meet with President Barack Obama on Tuesday and present Japan as a beacon of peace and stability in Asia in a speech to a joint session of Congress on Wednesday. Less than a week ago, Abe met Chinese President Xi Jinping in the latest sign of thawing ties between Asia's two largest economies.
"The point is to deal with China," said Narushige Michishita, a professor at the National Graduate Institute for Policy Studies in Tokyo. "Basically, it's about how much more closely Japan and the U.S. can work together to that end."
With 57 countries, including U.S. allies but not the U.S. or Japan, having joined the China-led Asian Infrastructure Bank, the allies are being pushed closer to retain their status as a rival center of economic gravity in the region.
Military Spending
China's rise as the world's second-largest economy has helped the country transform its military since the previous U.S.-Japanese guidelines in 1997. China has expanded the reach of its navy, improved its air capabilities and extended its submarine fleet.
That growing military muscle is allowing China to more aggressively assert territorial claims in both the East and South China seas, fueling tensions across the region.
The Chinese government announced in March a 10 percent increase in annual defense spending to about 888 billion yuan ($143 billion). This compares to about $10 billion in 1997, according to Adam Liff, an assistant professor at Indiana University's School of Global and International Studies. Japan's defense budget for the fiscal year that started this month is about $42 billion.
The new alliance guidelines will enable the two militaries to work together in "gray zone" situations that fall short of an armed attack.
Disputed Islands
Japan has been seeking ways to deal with such situations, given that Japanese and Chinese ships and planes regularly tail each other around disputed East China Sea islands. Japan scrambled fighter jets more than 450 times in the 12 months to March to head off Chinese planes approaching its airspace.
"To the extent that the guidelines emphasize 'gray zone' deterrence and responses, this will antagonize China, because it is China that is the threat," said Jennifer Lind, associate professor of government at Dartmouth College in New Hampshire.
The new guidelines reflect Abe's 2014 reinterpretation of the 68-year-old pacifist constitution to allow Japan to defend other countries. In a joint statement, the ministers welcomed that change, as well as the loosening of a ban on defense exports and strengthening of laws on state secrets.
"A stronger, more reliable Japan is also in the interest of the U.S. as it pursues its policy of rebalancing," Abe told students at the Harvard Kennedy School on Monday. "A more robust alliance between the U.S. and Japan is in the interest of the region and of the world."
As it encourages the changes, the U.S. has floated the idea of Japan conducting patrols in the South China Sea, which Nakatani said in February he would consider.
Divisive Changes
The announcement of the guidelines was delayed from last year to allow for coordination with security bills set for submission to Japan's parliament next month that will enable Japan to defend other countries. Debate on the bills will focus attention on changes that divide the Japanese public and will be a potential risk for Abe as he faces a party leadership election in September.
A poll published by the Nikkei newspaper last week found 52 percent of respondents disagreed with the government's plan to pass the legislation in the current parliamentary session, which is scheduled to end in June. Only 29 percent said they agreed with the plan.
While China is sure to protest the strengthening of the alliance, the effect on ties with Japan may not be severe, said Yuki Tatsumi, senior associate of the East Asia program at the Stimson Center in Washington.
"China, or Xi Jinping to be exact, made a strategic decision to stabilize relations with Japan and that will not change with these guidelines," Tatsumi said by e-mail. The 1997 update sparked criticism from China, but did not prevent then-president Jiang Zemin from visiting Tokyo the following year, she said.
Before it's here, it's on the Bloomberg Terminal.
LEARN MORE