HSBC Jumps Most in a Year After Retail Spinoff Plan Report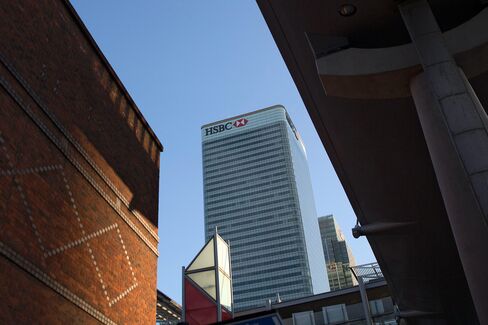 HSBC Holdings Plc's shares jumped the most in more than a year in London after a newspaper report saying the lender may spin off its U.K. consumer bank as the company pledged to review its domicile.
Europe's largest lender surged as much as 4.6 percent, the most since January 2014, and traded 2.7 percent up at 646.80 pence at 10:45 a.m. in London, compared with a 0.3 percent drop in the FTSE 100 Index. In Hong Kong the stock posted the biggest intraday gain since December 2011.
HSBC is considering spinning off the consumer bank worth about 20 billion pounds ($30 billion), the Sunday Times newspaper reported, without saying where it got the information. Chairman Douglas Flint said Friday the lender would consider moving from the U.K., where a bank levy cost the firm 750 million pounds last year, more than any other lender.
"Today's gains are mainly being driven by the possible spinoff of HSBC's U.K. retail bank, on top of the relocation potential," said Linus Yip, chief strategist at First Shanghai Securities Ltd. in Hong Kong.
Heidi Ashley, a spokeswoman for HSBC, declined to comment on the plan for the U.K. consumer business. The bank, which will release first-quarter earnings on May 5, is scheduled to update investors on its strategy on June 9.
Diluting Returns
A spinoff would recreate Midland Bank, which HSBC bought in 1992, although a deal isn't imminent, the Sunday Times said.
"Spinning off U.K. retail would give up a significant source of earnings," with the consumer division "the most profitable U.K. business," said Carla Antunes-Silva, an analyst at Credit Suisse Group AG with an underperform rating on HSBC shares. "A full U.K. separation would dilute returns."
Hong Kong is viewed by analysts as the bank's most likely destination should it relocate. A transfer should cost the lender no more than $1.5 billion because HSBC still has a base in the former British colony, according to Chirantan Barua, an analyst at Sanford C. Bernstein in London.
Europe accounts for less than a quarter of profit at the bank, which operates in more than 70 nations. On Friday, the Hong Kong Monetary Authority noted what it called HSBC's "deep historical links" with the territory and said it would take a "positive attitude" should the lender decide to move. HSBC was founded in Hong Kong and Shanghai in 1865.
"Given HSBC's historical Hong Kong connection and the size of its group balance sheet, we believe a China-backed banking system in Hong Kong is probably the only realistic option for its headquarters," said Ronit Ghose, an analyst at Citigroup Inc. "The recent increase in the tax burden on U.K. banks, especially via the bank levy, may have been a tipping point."
In the U.K., Prime Minister David Cameron said last week that HSBC's decision to consider moving headquarters underscored the need to keep the country business-friendly.
Standard Chartered Plc, which has also come under pressure from investors to re-domicile to Asia amid higher British taxes, climbed 2.5 percent to 1,097 pence in London. Barclays Plc and other major U.K. banks fell.
Before it's here, it's on the Bloomberg Terminal.
LEARN MORE