Greece Should Stay in Euro, Follow Rules, Portugal's Portas Says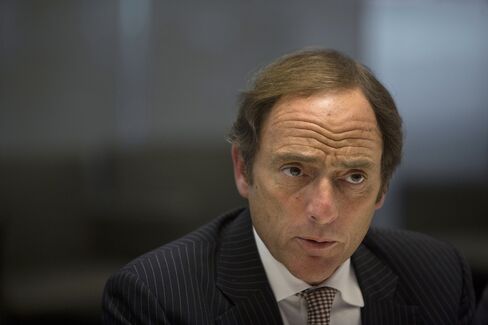 European countries want Greece to stay in the euro zone and to follow the bloc's rules, and it's capable of doing so, said Paulo Portas, Portugal's deputy prime minister.
"Everybody wants Greece in the euro," Portas said in an interview Monday at Bloomberg headquarters in New York. "Europe has rules and guidelines. It depends on them to present measures and reforms, as we all did."
Portugal in 2011 received a 78 billion-euro ($85 billion) rescue package from the European Union and International Monetary Fund. It exited the bailout last May, and its borrowing costs for 10-year debt have fallen to less than 2 percent as of Monday from more than 18 percent in 2012.
After cutting its deficit by more than two-thirds last year, Greece at year-end had a chance for economic growth and was in early-stage talks aimed at preparing for the end of its bailout, Portas said.
"So this is not a lost case," Portas said. "They can fix the situation, but they have to deliver solutions and reforms."
If Greece does abandon the common currency, Portugal is well positioned to avoid losing investors' confidence as part of a contagion effect, Portas said. Reducing the budget deficit, cutting corporate taxes and easing restrictions on labor and housing markets laid the groundwork for economic growth and increased foreign investment, he said.
Portas, 52, was in New York on a two-day visit to promote investment in Portugal.
"There are a lot of people, not only from the United States, looking for land, looking for agroproduction, looking for information technology companies, looking for renewables, which is relevant in Portugal, looking for tourism assets and for banks," Portas said.
Novo Banco
Apollo Global Management LLC and Cerberus Capital Management LP are among the companies competing to buy Novo Banco SA, said Pedro Goncalves, secretary of state for investment, who accompanied Portas. Novo Banco was created last year to hold the healthy assets of Banco Espirito Santo SA after that lender's collapse last year.
Portugal's government forecasts gross domestic product growth of 1.6 percent this year, which would be its strongest expansion since 2010. Last year the economy grew 0.9 percent after three years of contraction.
"We'll probably have 1.6 percent or more," Portas said, with growth of more than 2 percent "in the next couple of years."
Parliamentary elections to be held by October won't lead to Portugal changing course as radically as Greece, as there's no strong support for a party similar to the Syriza party that won power there in January, Portas said.
"This is a country from the center-right to the center-left," he said. "We never had extremist temptations, this is not in our nature."
Election Alliance
Portas, who was foreign minister before becoming deputy prime minister in 2013, leads the smaller of the two parties in the governing coalition led by Prime Minister Pedro Passos Coelho. The two party leaders on April 25 said they would form an alliance for this year's elections, unlike 2011, when they competed separately and formed a coalition after the results were in. The Socialists, who lost power after asking for the bailout in 2011, have led in voter surveys.
"At the end of the day you will need a compromise attitude among the major parties -- the two governing parties and the Socialists,'' Portas said. ''We'll have to talk.''
Before it's here, it's on the Bloomberg Terminal.
LEARN MORE