Chipotle Completes Plan to Remove GMOs From Its Menu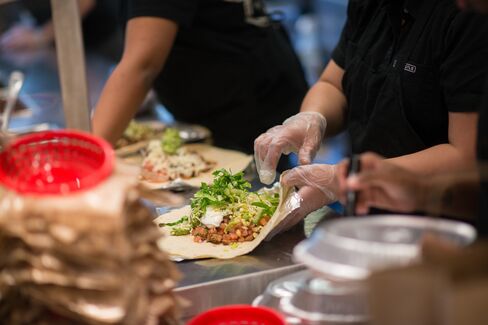 Chipotle Mexican Grill Inc. has eliminated genetically modified organisms from all its ingredients, an unprecedented move for a national U.S. restaurant chain that may give it a marketing edge over fast-food rivals.
The company, which began labeling its GMO ingredients two years ago and vowed to remove them, has now taken the final step of stripping them from tortillas and cooking oil. While the U.S. Food and Drug Administration has said that GMOs are safe, they have been increasingly targeted by consumer activists. Vermont recently became the first state to require the labeling of genetically modified ingredients.
"There is a lot of debate about genetically modified foods," Steve Ells, co-chief executive officer of Chipotle, said in a statement. "Though many countries have already restricted or banned the use of GMO crops, it's clear that a lot of research is still needed before we can truly understand all of the implications of widespread GMO cultivation and consumption. While that debate continues, we decided to move to non-GMO ingredients."
The move coincides with a new Chipotle marketing campaign that will tout its use of simple, unprocessed ingredients. Removing the remaining GMOs from its menu gives the company fresh ammunition as Chipotle criticizes the food of rival chains.
Processed Foods
"There are more than 800 artificial ingredients, preservatives and processing aids used in processed foods," Mark Crumpacker, Chipotle's chief creative officer, said on a conference call last week. "In fact, there are 85 ingredients in a single fast-food burrito served by one of our competitors."
Chipotle had been using GMO ingredients in soybean oil for cooking chips and taco shells. The company is now using sunflower oil instead.
There also were GMO ingredients in the company's corn and flour tortillas. As part of the switch, Chipotle's suppliers planted non-GMO corn for tortillas. The move was previously reported by the New York Times and CNN.
The chain's tortillas still contain food additives, including preservatives and dough conditioners. Chipotle said the conditioners allow quickly made tortillas to have the "consistency that was once achieved by allowing dough to rise slowly." The goal now is to sell tortillas free of additives, bringing them in line with the rest of its menu.
Bread Lab
Chipotle is working with its tortilla suppliers and the Bread Lab at Washington State University to "develop a new system of making tortillas that will allow the dough to rise slowly and eliminate the need for the dough conditioners."
That adjustment won't be as difficult as the GMO move. "But still a challenge, simply because tortillas are difficult to keep fresh for so long," Chipotle said.
The company's changing ingredients have come at a price. Chipotle said last week that its spending on tortillas has increased as it uses more organic flour, adding to its escalating meat costs. The company warned that it may have to raise beef prices 4 percent to 6 percent as soon as the third quarter, following another price hike last year.
Eschewing GMOs also limits Chipotle's pool of suppliers. Already, the company has struggled to keep its menu items in stock, with a shortage of pork this year leading to "rolling blackouts" of the carnitas at its restaurants.
Still, the GMO change alone didn't create "significantly higher" ingredient costs and won't lead to price increases, the company said.
Chipotle is willing to live with some supply-chain risks because the GMO move reinforces its reputation for food quality, said Darren Tristano, executive vice president at Technomic Inc., a research firm in Chicago. It also helps burnish the brand, he said.
"It's a necessary step for them to stay ahead of the competition," he said. Few restaurants "are as loved as Chipotle. It's almost like a religion to the younger generation."
Before it's here, it's on the Bloomberg Terminal.
LEARN MORE