Not Everyone Thinks Flood of Saudi Arabian Crude Is Bearish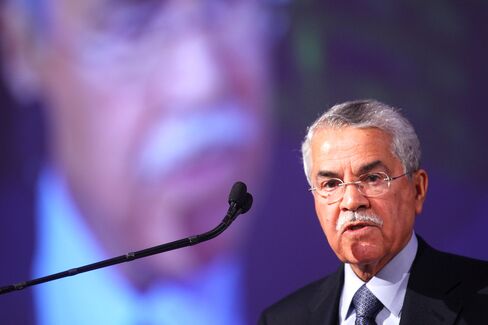 As the world's biggest oil exporter opens the spigot, not everyone agrees that it's bearish for prices.
Saudi Arabia is pumping at near-record levels into a global market contending with the biggest inventory surplus since 2009, according to the International Energy Agency. Gary Ross, the founder of PIRA Energy Group, says the resulting depletion of the country's spare capacity sets the stage for a price spike. Saudi Oil Minister Ali Al-Naimi said on April 7 the kingdom produced 10.3 million barrels a day in March.
The kingdom's spare capacity could dwindle to 700,000 barrels a day, or 6 percent of its total, from about 1.2 million now as it raises production during the summer to meet peak domestic electricity consumption, according to PIRA, which advises most of the world's biggest national oil companies. Saudi power plants burn crude during the summer because of insufficient natural gas supplies.
"I come away thinking 10.3 million is bullish," New York-based Ross said by phone on April 21. "It's bullish because that means spare capacity is only 1.2 million barrels a day in a 93 to 94 million barrel-a-day market."
Capacity Drain
PIRA's estimate that Saudi Arabia has total capacity of about 11.5 million barrels a day is lower than that of the IEA, which has an assessment of 12.3 million. PIRA, founded by Ross in 1976, advises two-thirds of the 30 largest U.S. oil and gas companies.
The attached chart, based on production figures Saudi Arabia gave to OPEC and the Joint Organisations Data Initiative, and data on its total capacity compiled by Bloomberg, shows that oil prices have surged on some occasions when the country tapped reserves. This occurred in 2008, as the kingdom moved to cool a price rally by adding supplies to global markets.
Brent crude futures for June fell 12 cents to $65.16 a barrel at 4:40 p.m. local time on the ICE Futures Europe exchange in London.
Boosting production by an additional 500,000 barrels a day would mean Saudi Arabia utilizing 86 percent of total capacity, a level it hasn't reached since prices soared to a record in the summer of 2008, data compiled by Bloomberg show.
Before it's here, it's on the Bloomberg Terminal.
LEARN MORE