Ukraine's President Says Martial Law Ready If Troops Attacked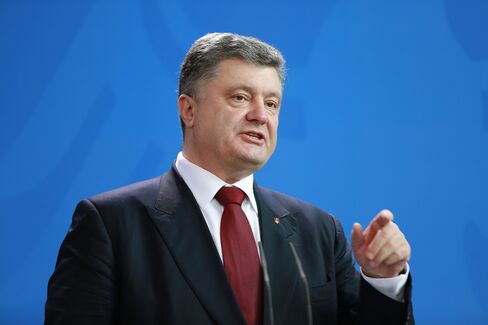 President Petro Poroshenko said he's ready to place Ukraine under martial law if his army is attacked in the embattled eastern part of the country.
"If Ukrainian troops are attacked, we can do everything to introduce martial law," Poroshenko said in an interview with the Ukraina television channel on Friday. "I will submit to parliament a corresponding bill and the country will very quickly move to a military footing."
Poroshenko also said that international military drills in Ukraine in no way violate the Minsk cease-fire agreement.
Earlier, Ukraine urged its allies to send it weapons and accused rebels of persistent cease-fire violations as NATO warned about an increase in Russian troop movement both near and across the border.
Russia said it was concerned about U.S. plans to supply modern weaponry directly or indirectly to Ukraine and accused the government in Kiev of keeping an economic blockade of the rebel-held territories in the Donbas region. The yearlong separatist conflict is fueling diplomatic tensions as Ukraine and its allies in the European Union and the U.S. blame Russia for stocking the insurgency with supplies of arms, fighters and money. Leaders in Moscow deny any involvement.
"The Ukrainian army needs weapons to defend Ukraine," Prime Minister Arseniy Yatsenyuk told lawmakers in Kiev on Friday. "And our western partners must hear: now the Ukrainian army is struggling not just for itself, but we are fighting for peace and stability in the EU."
Russia is staging a "substantial build-up" of forces near and in eastern Ukraine, which is undermining the cease-fire agreement signed in the Belarusian capital of Minsk, Jens Stoltenberg, secretary general of the North Atlantic Treaty Organization, said late on Thursday.
There's a "rising concern" about violence in eastern Ukraine and the presence of U.S. military instructors is "adding fuel to fire," Russian Foreign Ministry spokesman Alexander Lukashevich told reporters in Moscow.
Before it's here, it's on the Bloomberg Terminal.
LEARN MORE