There's Nothing Like Disappointment to Keep Debt Markets Booming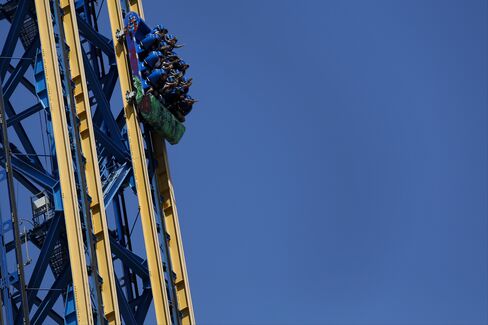 If not for a steady stream of disappointing economic news, what would corporate-bond investors do?
The fact that company debt has rallied in recent months isn't so much a reflection of optimism on growth and profits than it is a bet the spate of underwhelming data will keep the Federal Reserve from declaring happy hour over by raising interest rates for the first time since 2006.
Take the Bloomberg ECO U.S. Surprise index, which show the nation's economy consistently underwhelming analysts more than any time since 2009. The latest: orders for business equipment unexpectedly fell in March for a seventh consecutive month.
Consider that most major central banks are either pumping cash into their economies or otherwise cutting interest rates that aren't already near zero. So what you get is a rush to buy debt that can provide positive returns, but isn't so risky that investors will lose their shirts.
In this environment, U.S. high-yield bonds have gained 3.8 percent this year and investment-grade notes have returned 2.5 percent, according to Bank of America Merrill Lynch index data.
"If there was better U.S. and European news then U.S. interest rates would go up," Bank of America Corp. credit analysts wrote in an April 22 report. "Our concerns remain that rebounding U.S. and global data take rate hiking risks to the next level, causing credit spreads to widen," likely resulting in losses on company bonds.
Eroded Buffer
Corporate debt has traditionally been somewhat insulated from losses when benchmark rates rise because they provide more yield than government securities and the tighter policy usually reflects a strong economy that results in higher sales and profits.
That protection may evaporate, though, if the economy suddenly surprises and central banks feel the need to start steadily raising rates more than what investors are pricing.
In 2013, when yields on 10-year Treasuries rose 0.8 percentage point in two months, high-yield bonds lost 3.2 percent and investment-grade notes fell 5 percent, Bank of America Merrill Lynch index data show.
The likelihood of that happening again anytime soon is getting lower by the day. The Fed of late has expressed no rush in lifting rates amid a stronger dollar, volatile oil prices and weaker-than-forecast economic data.
At least that's what bond investors are hoping. Anything else, and they may be in for a rude awakening.
Before it's here, it's on the Bloomberg Terminal.
LEARN MORE