Retail Stocks Flash Bearish Signal on Oil, U.S. Spending Pause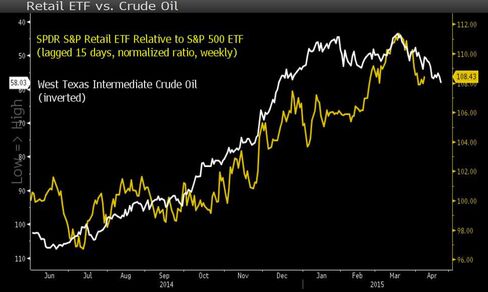 Retail stocks are trailing the broader market as the plunge in oil prices shows signs of coming to an end.
The SPDR Standard & Poor's Retail Exchange-Traded Fund -- made up of more than 100 companies including Wal-Mart Stores Inc. and Amazon.com Inc. -- has fallen 0.4 percentage point since April 2, while the SPDR S&P 500 ETF has risen 2.3 percentage points -- see chart. That follows a 10-month rally when the retail group outpaced the benchmark fund by 12 percentage points. The retail ETF closed at $100.80 on April 23, while the benchmark ETF was at $211.16.
The retail ETF is falling from an 18-month high relative to the S&P 500 as some traders are "rotating out of these stocks" -- see chart -- having become convinced the price of oil has bottomed, according to Matt Maley, an equity strategist in Newton, Massachusetts, at Miller Tabak & Co. "It's not a coincidence the retail fund stopped outperforming shortly after oil stopped going down."
- U.S. benchmark West Texas Intermediate crude oil has rallied almost 33 percent from a six-year low on March 17.
In the past year, there's been an inverse relationship between the price of crude oil and the relative performance of retail stocks. An almost 60 percent decline in oil between June 2014 and mid-March contributed partly to the rally in shares of these companies as "investors anticipated a boost to consumption that would benefit retailers' profitability," Maley said. "The retail fund's recent underperformance reflects a partial reversal of this bet," which could be more pronounced if oil trades above $60 a barrel.
Savings Not Spent
As it turns out, "consumers aren't spending as much of the money saved from lower gasoline prices," Maley said.
- Retail sales, excluding automobiles and gasoline, have been below the median forecast of economists surveyed by Bloomberg in each of the last four months.
- Americans saved 5.8 percent of their disposable personal income in February, the highest since December 2012 -- see chart.
Retail stocks could further underperform the market if the U.S. dollar extends its decline from its mid-March peak, said Andrew Burkly, head of institutional portfolio strategy at Oppenheimer & Co. in New York.
The currency has fallen 3.1 percent since March 13, when the Bloomberg Dollar Spot Index was at its highest in data going back to 2004. From June 20 through March 13, the currency had risen about 21 percent.
Less Reliant
Retailers are less reliant than other industries on overseas sales, and so they have less to lose when a rising dollar erodes the value of revenue generated abroad. This is especially true for specialty retailers represented in the ETF, Burkly said.
A falling dollar, reflecting lower growth prospects for the U.S., is a negative for these stocks' relative performance -- see chart -- since they're "mostly tied to the domestic economy," he said.
There are other reasons that underscore a bearish outlook for retail stocks, Burkly said.
- The ETF formed a so-called double-top relative to the broader market, falling this month after nearly matching the previous high reached in October 2013. The ETF's failure to surpass the previous high relative to the S&P 500 is a bearish signal because it indicates investors are allocating less money to the retail group.
- Short interest is near the lowest level since 2007, reflecting bullish investor sentiment -- see chart. That may set the stage for early betting against the retail group and invite an increase in short selling.
The next short interest report is scheduled for release Friday after 4 p.m. New York time.
Before it's here, it's on the Bloomberg Terminal.
LEARN MORE