Glorious Property Seen Close to Default After Kaisa Tumble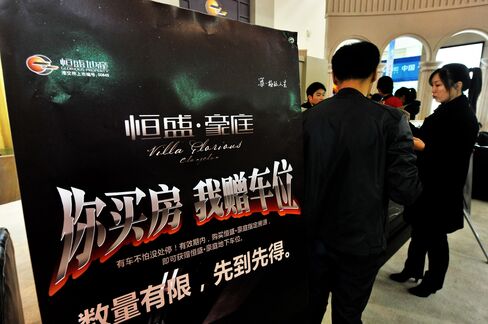 After Kaisa Group Holdings Ltd. defaulted on its dollar bonds earlier this week, the market got to wondering, who could be next? They didn't have to look very far.
Attention has rapidly shifted to Glorious Property Holdings Ltd., whose controlling shareholder is billionaire Zhang Zhirong. Moody's Investors Service cut its senior unsecured rating to Ca, just one step from the lowest grade typically signaling default, on April 20 citing sliding sales. It settled $19.5 million of interest Friday on its $300 million of 13 percent notes due Oct. 25, which have dropped 6.3 cents this month to trade at 78.4 cents on the dollar.
Investors got a reminder of the risks of investing in Chinese companies' some $275 billion of dollar bonds outstanding when Kaisa missed a grace period to pay $52 million of overdue interest on two of its U.S. currency notes, making it the first developer from the nation to default on its dollar debt. China's weakest economic growth since 1990 and a slumping real estate market are only adding to concerns.
"Glorious is currently the most likely to default among Chinese developers with dollar bonds outstanding," said Rui Guo, a credit analyst at Mitsubishi UFJ Securities HK Ltd. "The series of overdue debt payments reflects the very weak cash flow and liquidity profile and heightened default risk of Glorious, which are worsened by the sharp losses incurred by the company."
Delinquent Debts
Doris Chung, a public relations officer at Glorious, said by phone Friday that the semi-annual interest on the 2015 notes had been settled. There was no information at this stage about the principal repayment in October, she said.
Glorious, which according to its website focuses on developing large scale and high quality properties in cities in the Shanghai region, Yangtze River Delta and northeast China, had missed scheduled payments as of Dec. 31 on loans of 149.6 million yuan ($24 million) in principal and 46.4 million of interest, according to its annual results dated April 15.
Since the end of last year, the company also failed to meet repayment deadlines on 500 million yuan of principal and 397.3 million yuan interest on unspecified borrowings this year, it said, without giving further details. While the builder subsequently settled the bulk of the missed payments, it was still delinquent on 130.3 million yuan, it said.
Sales Plunge
Glorious's contracted sales plunged 45 percent to 4 billion yuan in 2014 with revenue dropping 48 percent, it said. Cash and cash equivalents including restricted cash slid to about 1.4 billion yuan as of the end of 2014 from about 3 billion yuan at the end of 2013, according to the results.
"There are two major concerns with the company," said Stephanie Lau, an analyst at Moody's in Hong Kong. "One is its weakening sales execution and the other is its poor liquidity."
Sales at Glorious have been declining in the past three years and gross profit turned negative for the first time last year since its initial public offering in 2009, Bloomberg-compiled data show.
"Compared to Kaisa, we don't think Glorious's current situation is much better off, since the company has been experiencing operation deterioration from 2012," Kenny Wu, a credit analyst at Citigroup Inc., wrote in an April 21 report.
Glorious's $400 million of 13.25 percent 2018 bonds have tumbled 17 cents since Dec. 31 to a three-month low of 56 cents on the dollar as of Thursday. Kaisa's similar-maturity $800 million of 8.875 percent debentures are at 55.2 cents.
Bondholder Committee
Kaisa's woes began last year after it issued a statement Oct. 17 denying rumors that its chairman, Kwok Ying Shing, was missing and unreachable. One week later, the government said the former Shenzhen security chief Jiang Zunyu was under investigation. Within two months, Kaisa announced Kwok's resignation for "health reasons" effective at year-end.
People familiar with the matter said in January Kaisa was being investigated for links to Jiang, who had served as party chief of Longgang district, where some approval procedures for Kaisa developments had been suspended. Kwok returned as chairman last week, as it negotiates with investors on debt restructuring.
There are nine money managers in Kaisa's offshore bondholder committee, people familiar with the matter said today. They are Ashmore Investment Management Pte, BFAM Partners Hong Kong Ltd., CQS (HK) Ltd., Citic Securities International Co., Claren Road Asset Management LLC, Harvest Global Investments Ltd., Highbridge Capital Management (HK) Ltd., Prudence Investment Management Ltd. and Value Partners Ltd., the people said, asking not to be identified because the details are private.
Rongsheng Heavy
Bert Grisel, a managing director in Hong Kong at Moelis & Co., which is advising the committee, declined to comment.
Glorious was founded in 1996 by Zhang Zhirong in Shanghai. Zhang stepped down as chairman of Glorious in November 2012 after a different company he controlled agreed to pay $14 million to resolve a U.S. insider-trading claim. Also at that time, he resigned as chairman of shipbuilder China Rongsheng Heavy Industries Group Holdings Ltd., which plans to start trading under its new name China Huarong Energy Company Ltd. from Friday. His departure was unrelated to that, his public relations firm said at the time.
Zhang Zhirong
Rongsheng announced on Tuesday that it has reached a consensus with government authorities and relevant parties to sell the core assets and liabilities of its onshore shipbuilding and offshore engineering businesses to an unidentified buyer. Its shares are up 43.2 percent since the announcement while Glorious's stock has climbed 10.7 percent.
Zhang still holds a 63.9 percent stake in Glorious, according to data compiled by Bloomberg. His estimated net worth was $1.4 billion as of Friday, the data show.
Zhang came into the Shanghai office of the media group Jiemian on Jan. 15, it said on its microblog. Jiemian reported earlier that Zhang had left for the U.S. Zhang denied any connection to Ling Jihua, who's a former top aide of retired president Hu Jintao and is being probed, or his brother who is also under investigation, contrary to the Jiemian article, according to a company statement.
Glorious differs from Kaisa in that Kaisa's stumble "stemmed from the sales restrictions by the Shenzhen government whereas Glorious's trouble was due to weak execution and lowered repayment capabilities," said Chris Yip, director of corporate ratings at Standard & Poor's. The credit assessor lowered its score on Glorious bonds in January to CCC-. S&P defines that as an issuer that will likely default without an unforeseen positive development, and that specific default scenarios are envisioned over the next 12 months.
The strains at Glorious come as China's new property starts slid 18 percent in the first three months of the year. The nation's cooling economic growth has left a backlog of unsold homes and depressed prices.
"Glorious management has come to a stage when they realized they may have to sell assets to make debt payments," S&P's Yip said. "But finding the right buyers in this market would be challenging."
Before it's here, it's on the Bloomberg Terminal.
LEARN MORE