The U.S. Economy Hasn't Disappointed Analysts This Much Since the Great Recession
A morning's worth of disappointing data sent the Economic Surprise Index down further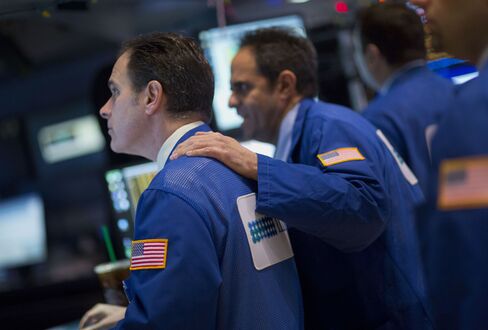 Following a quartet of weaker-than-expected economic data reports released this morning, Bloomberg's U.S. economic surprise index has fallen to levels seen only during the Great Recession.
At -0.783, the 15-year-old index has been this far away from zero in either direction in only two other periods: in early 2009, when it hit a record-low -0.996, and in March 2011, when it climbed as high as 0.950.
That's not to say that the economy's heading into recession. The surprise index measures data relative to economists' projections, so the measure is showing that forecasters were way too optimistic coming into 2015.
This morning, we got news that:
Initial jobless claims rose to 295,000 in the week through April 18 from 294,000 the week before. The consensus estimate of economists surveyed by Bloomberg saw a drop to 287,000.
Markit's monthly survey of purchasing managers in U.S. manufacturing showed a slowdown in activity in its preliminary April data. The headline index fell to 54.2 from 55.7, defying the consensus prediction of an unchanged reading.
New-home sales sank 11.4 percent in March, while the median economist in our survey expected only a 4.5 percent drop.
The Kansas City Fed's monthly measure of manufacturing activity fell to -7 in April from -4 in March, missing estimates for an improvement to -2.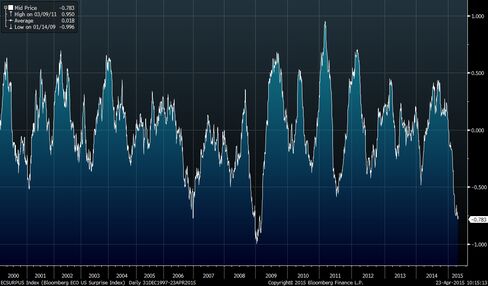 There have been a number of factors at work, including the rapid appreciation of the U.S. dollar, the sharp decline in oil prices, another historically harsh winter that slowed weather-sensitive activities, and a labor dispute at West Coast ports that disrupted supply chains. The impacts of each of these effects have proved difficult to calculate in real time.
Next Wednesday, we get the first look at first-quarter GDP figures. Economists surveyed by Bloomberg expect the net effect of all of these forces slowed growth to 1 percent at an annualized pace in Q1, down from the 2.2 percent rate logged in the fourth quarter of 2014.
The surprise index is supposed to be mean-reverting, which means it should be expected to bounce back as economists rein in their expectations for subsequent data releases.
For more on the global economy, check out Benchmark: