Bass Expands Drug Patent Fight as Celgene, Shire Make Five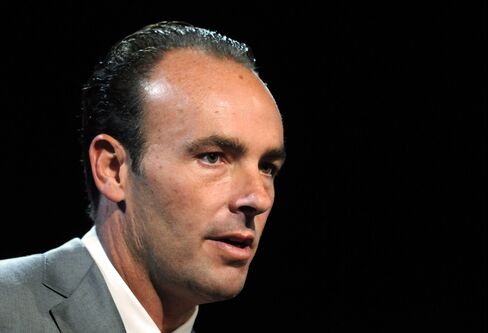 Hedge fund manager Kyle Bass has expanded the number of drug companies whose patents he has targeted to five.
In less than three months, Bass's Coalition for Affordable Drugs has filed petitions to invalidate patents on six different drugs, including two on Thursday, owned by Shire Plc and Celgene Corp. His tactics are largely made possible by a change in U.S. law that, beginning in 2012, created new procedures to challenge patents, including by third parties.
Bass, who runs Dallas-based Hayman Capital Management and rose to fame in 2007 after betting on a collapse in the U.S. housing market, has stayed relatively silent on his newfound strategy. A letter he sent last week to leaders of the House Judiciary Committee is shedding some light on his motives. Bass said some drugmakers "have engaged in abusive practices by acquiring and enforcing weak patents."
"A small number of monopolistic drug franchises that have gone unchecked have become our special focus," he said in the April 14 letter, which was commenting on a congressional proposal to change the rules for patent litigation.
Drugmakers are lobbying lawmakers in Washington to add measures to that bill that would make it harder to invalidate patents and limit the ability of third parties like hedge funds to file petitions.
'Desperately Needed'
"Reform is desperately needed," Mit Spears, general counsel of the trade group Pharmaceutical Research and Manufacturers of America, said in a statement. "These changes are important to ensure that companies can continue to invest in research to discover and develop new and much needed medicines."
Bass said he's not targeting the entire drug industry and won't accept settlement payments in order to drop the challenges. In each of the petitions, Bass contends the patents don't cover new inventions and should be canceled.
Shire, Celgene and the other drugmakers targeted will get a chance to respond, and a panel of administrative law judges at the U.S. Patent and Trademark Office will review both sides to see if there is a "reasonable likelihood" that all or part of the patents are invalid.
Bass's challenges have angered the drug industry, which has questioned his motives and criticized the new government review process that it says is skewed against patent owners. Spears cited an oft-quoted description by a former federal appeals court judge who referred to the reviews as a "death squad" for patents.
Biogen Drug
Two of Bass's petitions were filed Thursday. One against Shire's Gattex, a treatment for short bowel syndrome, expands upon a challenge Bass filed against the same patent April 1. Bass had also gone after Shire's patent on Lialda, a colitis medicine that generated $634 million in sales last year. Dublin-based Shire said April 6 it would "continue to defend vigorously its patents."
A separate challenge was made Thursday against Celgene's Thalomid, first approved to treat a form of leprosy. Its active ingredient is thalidomide, which caused birth defects in the 1960s when it was used as a morning-sickness remedy for pregnant women. The patent being challenged is for a way to deliver the drug without exposing it to the fetus and expires in August 2018.
Patent Challenge
On Wednesday, Bass challenged a patent expiring in 2019 for Biogen Inc.'s Tecfidera, a multiple sclerosis drug that had $2.9 billion in sales last year. Michael Yee, an analyst with RBC Capital Markets, said the challenge was "widely expected" and doesn't involve the key patent covering the drug.
"We have a strong IP portfolio protecting Tecfidera, which grew out of our pioneering efforts in bringing this important medicine to patients, and intend to aggressively defend this portfolio," said Catherine Falcetti, a Biogen spokeswoman.
The other petitions, dating to February, were against Jazz Pharmaceuticals Plc's narcolepsy pill Xyrem and Acorda Therapeutics Inc.'s multiple sclerosis drug Ampyra.
The type of government review triggered by Bass's petitions takes about six months and there's no guarantee the Patent Trial and Appeal Board will agree to institute any of the cases. If it does, it will make final decisions within 12 months.
The Inter Partes Review was created as a quick and relatively inexpensive way for technology companies and retailers to deal with so-called patent trolls -- a pejorative for certain patent-licensing firms that file a large number of suits over things like the use of Wi-Fi or common software functions in hopes of an easy payout.
Drugmakers and biotechnology companies said the procedure has instead opened the door to outside groups that are using it to profit by demanding cash to drop challenges or betting that the petitions would cause stocks to move.
While generic-drug companies including Mylan Inc. and Apotex Inc. have filed petitions, Bass said in his letter that they "are not effective or reliable policemen of the patent abuses" because too often they are willing to settle cases.
Before it's here, it's on the Bloomberg Terminal.
LEARN MORE