Aramark CEO Tops U.S. Executives With $800,000 Plane Tab in 2014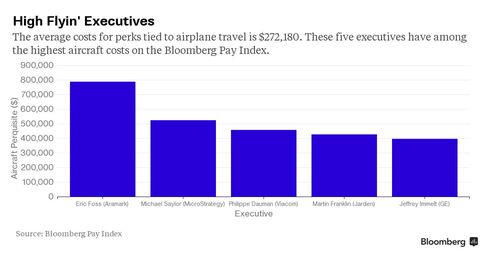 Aramark, the biggest provider of food and beer at U.S. arenas, spent almost $800,000 last year flying around Chief Executive Officer Eric Foss, the largest amount for that benefit among the country's 100 top-paid executives.
Foss, 56, became CEO of Aramark in 2012 and helped steer the company through an initial public offering a year later. His awarded pay of $33.8 million in 2014 included $1.1 million in perks. Of that, about $330,000 was for benefits including dividends on stock awards and a car allowance. The rest came in the form of aircraft usage.
"Aramark's board of directors established a policy in the best interests of the company for the CEO to use a company plane for all air travel for security and safety purposes -- as well as to maximize the effectiveness and efficiency of conducting business," said Karen Cutler, a spokeswoman for Philadelphia-based Aramark. "Use of the plane is properly monitored by internal audit and the general counsel to ensure full compliance with all regulations."
The average cost for perks tied to airplane travel soared 22 percent to $272,180, while dues for club memberships jumped 28 percent, according to the Bloomberg Pay Index. The index calculated the average amount paid for the benefits according to the most recent proxies filed compared to the prior year, and omitted the companies that didn't contribute those perks. Security costs increased 23 percent, the index shows.
Club Dues
Executive perks can range from aircraft usage and car service to private school tuition and country club dues. The U.S. Securities and Exchange Commission requires the disclosure of total pay granted to named executives. In a company's summary compensation table, the "all other compensation" category must identify and quantify each part of an executive's pay that exceeds $10,000.
"Companies have tried to winnow down the types of perks that are provided to their executives, so the list has gotten shorter," said David Doyle, an executive compensation lawyer at Day Pitney LLP. "But there are still lots of things."
CBS Corp. CEO Les Moonves had $702,855 in transportation-related benefits, including use of the company aircraft, in fiscal 2014. A year earlier, the expense totaled $533,527.
The use of a company plane isn't part of the pay packages awarded to KKR & Co. co-founders Henry Kravis and George Roberts. Roberts had the highest car and driver perk on the Bloomberg Pay Index, at $282,486 in 2014, while Kravis had the third-highest at $202,706. Kristi Huller, a spokeswoman for KKR, declined to comment.
Charity Expenses
Club memberships, which are often funded by companies because they're seen as helping business relationships, increased to an average of $9,025, according to the Bloomberg index. Cable operator Liberty Global Plc spent more than $22,000 on CEO Michael Fries's professional memberships in 2013. Fries's other perks included $628,533 for charity-related expenses and $376,690 for aircraft use.
Alan Miller, chairman and CEO of Universal Health Services Inc., was awarded about $14,000 in country club dues last year, a 17 percent increase from the prior year.
Boards "have become much more careful about these types of benefits" since a 2006 rule required the disclosure, said Carol Bowie, head of Americas research at proxy advisory firm Institutional Shareholder Services Inc. "That doesn't mean they won't do it, but nowadays they're much more concerned with how it will look," Bowie said.
If a perk seems too generous, a company will often change its policy for the following year, said Doyle, the executive compensation lawyer.
Security Expenses
In 2014, Steve Wynn's pay included $1.05 million for personal use of Wynn Resorts Ltd.'s aircraft, a sum that was included in his total awarded compensation of $25.3 million. He isn't among the 100 highest paid executives. Next year, he'll have a budget of $250,000 for using the aircraft for personal reasons and reimburse the company for the rest, according to a 2014 filing.
The expense of keeping executives safe is also often shouldered by firms. Security expenses rose to an average $295,397, according to the index. Oracle Corp. compensated billionaire founder Larry Ellison with $1.5 million for security at his primary residence in Woodside, California, in fiscal 2014, the company's most recent proxy filing shows. Ellison was awarded a $100 million pay package in 2014. Oracle spokeswoman Deborah Hellinger declined to comment.
MicroStrategy Inc. CEO Michael Saylor's compensation included almost $500,000 last year for a security team comprised of specialists and expenses related to their travel, parking, lodging and meal costs, according to a company filing.
Dan Och, CEO and chairman of hedge fund firm Och-Ziff Capital Management Group LLC, received more than $1 million for security costs last year. His "other compensation" totaled $1.1 million and was the only reported pay he received in 2014. He isn't among the 100 highest paid executives.
"We consider the expenses for certain of Mr. Och's security in 2014 to be for our benefit," the company said in a March filing.
Before it's here, it's on the Bloomberg Terminal.
LEARN MORE