The 10 Most Affordable Cities For Millennials
Have you considered the Rust Belt?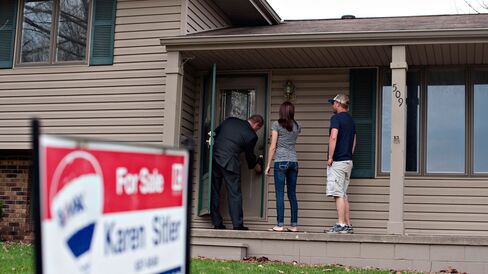 In the aftermath of the housing crisis, it seemed like millennials might give up on homeownership in favor of a lifetime spent renting squalid apartments in gentrifying urban centers. Fears of that grim scenario have mostly passed, and it's not uncommon to hear of young faces at open houses, or to read surveys in which renters say they're finally ready to fork over a down payment.
But wanting to buy a house and being able to afford one are different, according to new research conducted for Bloomberg by Zillow. Young homebuyers in some of the biggest U.S. cities may be out of luck, regardless of their solid credit and the cash they've socked away. In three of the 10 largest U.S. metro areas, fewer than half of the homes for sale on Zillow during the fourth quarter of 2014 were affordable to typical 23- to 34-year-olds. In Los Angeles, fewer than a third were within reach. To define affordability, Zillow used the median income of young adults in a given metro and assumed buyers would put 5 percent down and spend 30 percent of their monthly income on mortgage payments.
In Chicago, where builders are keeping pace with migration, young homebuyers are likely to find plenty of affordable units to choose from. In Los Angeles, not so much.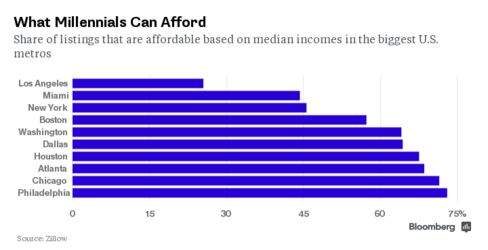 In fact, most of California is looking out of reach. Eight out of the 10 cities with the lowest share of affordable listings in the fourth quarter of 2014 were in the Golden State. It's not just metros with reputations for being expensive, such as San Diego (27 percent), San Francisco (36 percent), and San Jose (38 percent). More than 60 percent of the listings in Sacramento, Modesto, and Fresno were unaffordable for most millennials. That's likely a function of shrinking supply—in all three cities there were fewer than half as many listings at the end of 2014 as at the end of 2010—but it hammers home a key point about millennial homebuyers: They may be ready to buy—financially, psychologically, biologically—but unable to afford the cities in which they hope to live.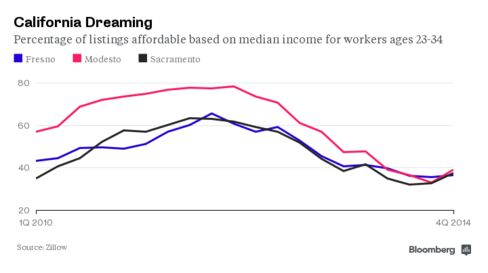 So where can the typical local millennial afford the largest share of for-sale homes?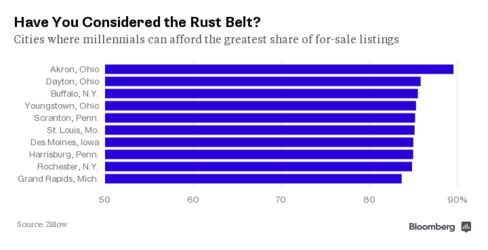 Income, of course, isn't the only factor that determines affordability. The Zillow data don't factor in the cost of living, which may tilt the affordability equation in some cities. Student debt can make buying a home challenging for high earners. Meanwhile, working wages aren't the only way first-time buyers get money for a home. Twenty-seven percent got cash gifts from friends and relatives in 2013, according to the National Association of Realtors. That leads to a distressing thought: New York and San Francisco may be in play if you have help from your parents. If not, well, Akron is probably nice in the springtime.
Before it's here, it's on the Bloomberg Terminal.
LEARN MORE