Inflation continues to underwhelm the Federal Reserve's 2 percent target, with the overall personal consumption expenditures price index picking up just 0.3 percent for the year ending February. Even so, New York Fed President William Dudley said Monday he expects inflation to "begin to firm later this year." Fed officials say they won't raise interest rates until they are "reasonably confident" that inflation is heading up.
Here's what Dudley's looking at, according to his recent comments.
Oil prices are no longer plummeting
"Most of the impact from the decline in energy prices that has weighed down overall inflation is likely over," Dudley said. Oil prices collapsed almost 50 percent last year amid climbing supply. Things could be looking up, though: The Paris-based International Energy Agency last week raised projections for 2015 demand, forecasting global consumption of 94.7 million barrels a day of crude in the fourth quarter, marking a nearly 1 million barrel increase over the same period in 2014. As the chart below shows, prices are looking steadier.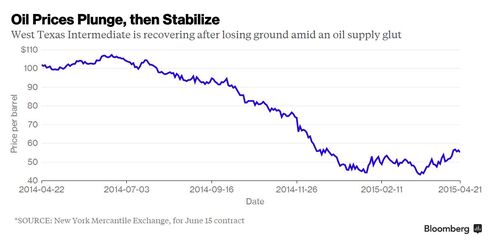 Rents are rising
"We are already seeing some firming in rent inflation as rental vacancy rates have returned to more normal levels," Dudley added. According to the National Multifamily Housing Council's quarterly survey of apartment conditions for April 2015, 31 percent of respondents said the apartment market is tighter than three months ago, while just 15 percent saw looser conditions. Rent prices have been climbing steadily through the recovery, as the chart below shows, as fewer apartments go empty.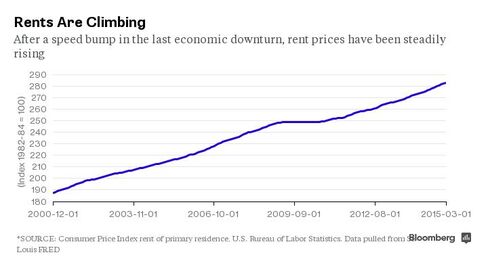 Jobs and incomes are growing
Dudley is also optimistic about the pace of job growth leading to higher incomes later. "The level of slack in the labor market has diminished sufficiently so that one might expect firmer wage gains going forward," he said at the Bloomberg Americas Monetary Summit in New York. Prior to a March slowdown to 126,000, the U.S. had added more than 200,000 jobs per month for a straight year.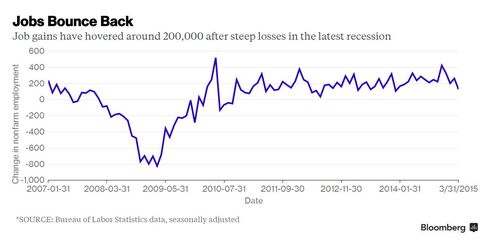 Household expectations have been stable
"Longer-term household inflation expectations have been well maintained through this period of very low inflation," Dudley said, citing the New York Fed's Survey of Consumer Expectations. Fed officials take confidence in stable inflation expectations because it suggests the public believes price increases will return to normal rates over the long-term. Check out the chart below to see what he means.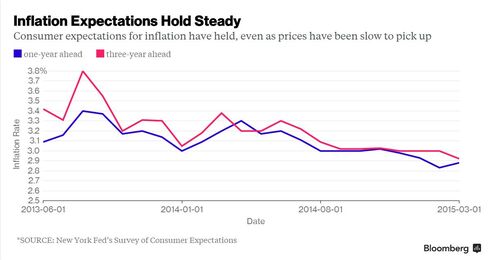 The takeaway here is that Dudley -- who holds a permanent vote on the rate-setting Federal Open Market Committee -- is beginning to grow confident that inflation will move higher from here over time. If his colleagues come to share that view, that could matter for when the first rate hike since 2006 takes place, and also for the pace of further tightening going forward.
For more on the global economy, check out Benchmark:
Before it's here, it's on the Bloomberg Terminal.
LEARN MORE