Goldman Says U.K. Tory Election Win More Market-Friendly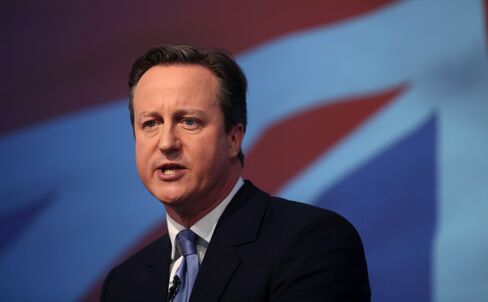 A Conservative win in the U.K.'s May 7 election would be seen as the most market-friendly outcome, Goldman Sachs Group Inc. analysts said in a note to investors.
A Conservative-led administration, whether alone or in coalition with their current partners, the Liberal Democrats, is likely to deliver more rigor in bringing down the budget deficit, while Ed Miliband's Labour Party has promised tax rises and regulatory measures that may weigh on banks, utilities and retailers, according to the note.
"A shift to a Labour-led or left-leaning coalition would likely cause weakness, particularly in areas of the market most exposed to policies that reduce labor market flexibility or are most at risk from higher regulation and/or taxation," the analysts wrote.
The note is a reminder of the problems Labour has had in attracting the support of executives in the run up to the vote, which most polls show will give no party an overall majority in Parliament. Earlier this month, more than 100 business leaders signed an open letter backing the economic and tax policies of the current Tory-led coalition and said a change in direction would threaten jobs.
Labour has tried to deflect attention by saying the biggest risk to business would be the threat of an exit from the European Union which would accompany any Conservative win, because Prime Minister David Cameron has pledged to hold an in-out referendum on Britain's membership by the end of 2017.
That was picked up on by Goldman, which said "some Conservative proposals (e.g., to cap non-EU immigration and hold a referendum on EU membership) have met with their own concerns from business leaders."
Goldman said proposed Labour policies may weigh on shares of utilities including SSE Plc, banks such as Lloyds Banking Group Plc and retailers including Sports Direct International Plc. It also said the pound and U.K. government bonds may be affected.
"Sterling is the asset that appears most at risk from a 'market-unfriendly' election outcome, although FX volatility markets have already priced in a significant degree of election risk," the analysts wrote. "Concerns over budgetary discipline, if left unchecked, could lead to a rise in gilt yields."
Before it's here, it's on the Bloomberg Terminal.
LEARN MORE