Five Charts That Show You Should Apply to Law School This Year
Becoming a lawyer has never been a more obvious decision
The last few years have been an unmitigated disaster for American law schools, which is excellent news for anyone with even the vaguest interest in getting a legal education. Sure, the job market for new lawyers hasn't exactly been peachy. Yes, the U.S. has too many law schools, given how uninterested Americans are in law school. And whether it's the fault of the students or the test, people have been failing the bar exam surprisingly often. It is still a perfect time to apply to law school, and here are five charts that prove it.
1. Law schools need bodies.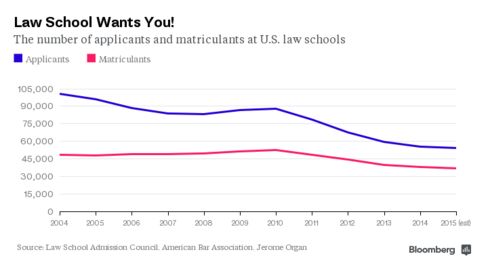 Fewer people are applying to law school than at any point in the past decade and a half. Enrollments are down, too, but aren't declining as fast. The convergence of blue and pink in the chart above is the closest we've ever gotten to watching law schools confront their darkest hour. Law deans have kept class sizes stable, despite tanking applications, for one obvious reason: they need the money. Tuition generally accounts for about half of a law school's budget, according to a 2011 report by Hanover Research, which also noted that it would be cuckoo to raise the price of a degree when people already have doubts about what these schools are selling. The best a dean can do is try to keep a healthy headcount, which means it's a good time to make yourself a part of an increasingly scarce supply of heads.
2. The Law School Admission Test is less competitive than it used to be.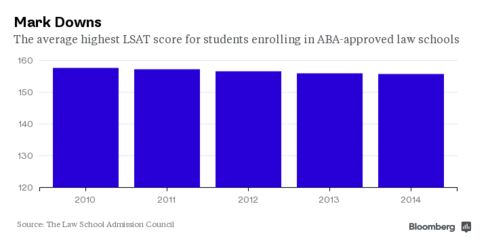 The Law School Admission Council is testing fewer students, and those taking the exam and enrolling in law school are getting lower scores. LSAC administered nearly 40 percent fewer LSATs in the 2013-2014 cycle as it did five years earlier. Meanwhile, the mean LSAT score for people enrolling in law school has slumped from around 158 to 156; the highest score possible is 180, and the lowest is 120. Taking the logic-heavy, four hour exam is as spirit-sucking as ever, but putting in that time might now be worth the anxiety. The odds of doing better than the person sitting next to you haven't looked this good in years.
3. A good applicant has an excellent shot at getting in.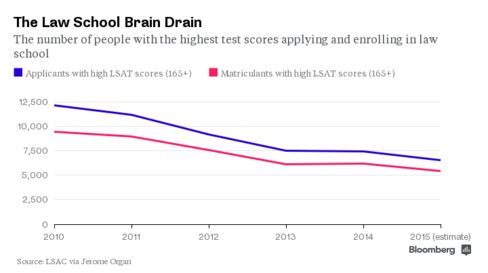 In 2010, around 12,000 people with LSAT scores of 165 or above applied to law school. This year, only 6,600 people with those scores will apply in the U.S., according to estimates by University of St. Thomas School of Law professor Jerome Organ, based on LSAC figures. Of those high-achieving applicants, Organ expects some 5,400 to start law school in the fall, and he estimates that a couple hundred of them will go to schools ranked 50 or below by U.S. News and World Report, "due to geography or scholarships or both," he said in a blog post.
This means that the top law schools will be competing for a sliver of elite candidates, who are desperately needed to keep rankings intact. (Students' median LSAT scores and undergraduate GPAs account for nearly a quarter of a school's rank on U.S. News's list). If you can ace the LSAT, there's a pretty good chance that big time institutions will lose their cool over you and offer up bags of scholarship cash to prove the love.
4. When I say good applicant, I'm probably talking about you.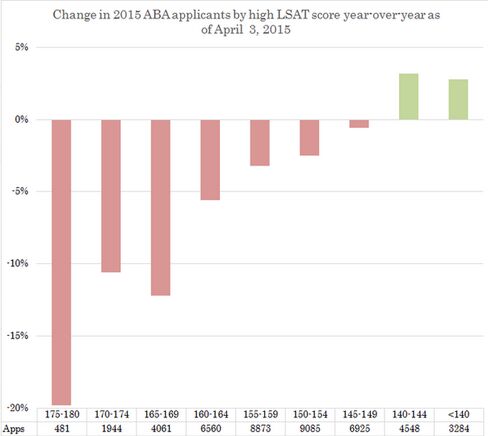 Even if you do not kill the LSAT, you'll probably look like a catch to admissions officers. This year, law schools are looking at fewer applicants on almost every level, including people who are probably underestimating the value of their test scores. Applications ticked down for all who scored 145 or above, according to an analysis by Derek Muller, a law professor at Pepperdine University. If you happen to be in the 155-165 range, regional schools will probably take a close look at your résumé. About 25 percent more people with scores below 150 will probably enroll in law school this year than in 2010. One caveat: LSAT scores are generally a good sign of how well you will do in law school and on the bar exam. "For students, if they don't have the qualifications to pass the bar, they really should be thinking about whether or not they should go to law school," says Muller, the Pepperdine professor. "Just because a law school accepts you doesn't mean you should go."
5. The law job market is better than it looks.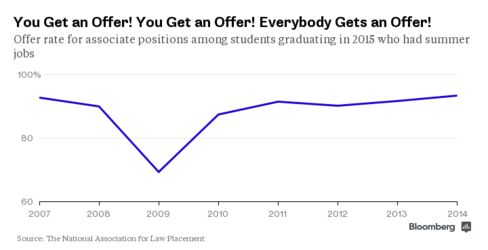 Everyone knows that the recession battered hiring at law firms. The panic should have subsided by now. More than half of 388 law firms surveyed recently by the National Association for Law Placement said they made more offers for associate positions in 2014 than they had in 2013. Among law students graduating this year who previously held summer associate gigs, 93 percent got job offers. That's the highest offer rate in the last two decades. Recruiters hiring on campuses last fall said they made a median of 35 offers, up from a low of 16 in 2009. Such good news may become the norm, as low enrollments mean that fewer people will compete for jobs upon graduation.
To sum up: No one wants to go to law school—except you, after reading this article.
Before it's here, it's on the Bloomberg Terminal.
LEARN MORE