Kaisa Bonds Mixed After Developer Defaults on Dollar Debt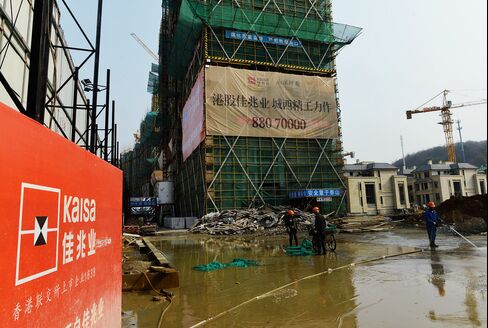 Kaisa Group Holdings Ltd.'s dollar bonds were mixed in trading after the developer became the first Chinese real estate company to default on its U.S. currency debt.
The company's $800 million of 8.875 percent 2018 notes rose 2.1 cents to 56.1 cents on the dollar as of 12:33 p.m. in Hong Kong, paring a 7.6-cent slump Monday. Its 2017 debentures slipped 2 cents to 55.8 cents on the dollar, after a 7-cent decrease, Bloomberg-compiled prices show.
Kaisa defaulted after being unable to find the money for $52 million of missed interest payments on the bonds and upon the expiration of a 30-day grace period, according to a Hong Kong stock exchange statement Monday. The company, still subject to a takeover offer from Sunac China Holdings Ltd., is seeking to restructure some 65 billion yuan ($10.5 billion) of debt owed to both onshore and offshore creditors amid ties to an anti-graft campaign.
"The eventual Kaisa default on the coupon payments had been well expected by the market because it was guided as part of the debt restructuring process," said Rui Guo, a credit analyst at Mitsubishi UFJ Securities (HK) Ltd. "The immediate impact on Chinese property bonds will be limited because the market has decoupled from Kaisa and policy easing is boosting sentiment."
Country Garden, Fantasia
Notes of other Chinese developers were broadly unchanged. Country Garden Holdings Co.'s 2020 securities were down slightly at 103.5 cents on the dollar while the 2019 notes of Fantasia Holdings Group Co., another Shenzhen-based real estate company, were steady at 89.0 cents on the dollar. Sunac's 2017 bonds declined 0.1 cents to 106.8 cents.
The Shanghai Stock Exchange Property Index fell 2.2 percent while the broader Shanghai Composite Index rose 0.9 percent.
While no real estate companies from Asia's biggest economy are marketing dollar notes to investors currently, the most recent sale, from Central China Real Estate Ltd., got a good reception. The junk-rated Zhengzhou-based group raised $300 million selling 2021 bonds with an 8.75 percent coupon April 15. More than $3.5 billion of orders were received for the sale, according to a person familiar with the matter who asked not to be identified because the details are private.
"There's strong demand right now for China property new issues, which was evidenced by Central China Real Estate's offering last week," Guo said. "The market has been waiting for more supply from the sector after issuance was held up by the Kaisa mess."
Sales Hiatus
Sales did experience something of a hiatus after Kaisa came close to defaulting on its 2020 bonds in January. Shimao Property Holdings Ltd. was the first high-yield Chinese developer to tap the market post that, selling $800 million of 2022 debt Feb. 4. The last speculative-rated Chinese developer to sell dollar debentures before Shimao was Sunac, in a $400 million offering Dec. 2.
Dollar-denominated sales from the nation's property developers totaled $3.5 billion in the first quarter, half the amount sold in the same period of 2014. Of the seven bonds sold so far this year, only two -- from Evergrande Real Estate Group Ltd. and Times Property Holdings Ltd. -- are rated single B, showing investor appetite for lower-rated junk debt from the sector remains weak.
"Weaker and smaller developers are more likely to run into problems," Chris Yip, a director of corporate ratings for Asia Pacific at Standard & Poor's, said. "Liquidity is the key risk in this market."
Default Expected
Yip said S&P had been expecting Kaisa to default since it missed its original coupon payment dates on March 18 and 19. "That's why we downgraded Kaisa to default," he said. "Ultimately it's down to how Kaisa can come to terms with creditors and move forward with them."
Kaisa "is focused on facilitating the release of its 2014 audited financial results," according to its statement. Following that release, the company "will continue its efforts to reach a consensual restructuring of its outstanding debts."
Kaisa's shares have been suspended from trade in Hong Kong since March 31, the same day it postponed the release of its 2014 results to give auditors more time to verify its accounts. There may be a "significant adjustment" to its unaudited numbers, the company said at the time, without specifying when it will release the results.
Glorious Downgrade
"If Kaisa's financial results turn out to be horrible, it could re-trigger concerns of other hidden problems in the sector," Guo said.
While most of the Chinese developers with offshore dollar bonds outstanding aren't expected to enter stressed or distressed territory in the near term, a few are showing signs of trouble.
Glorious Property Holdings Ltd. was downgraded by Moody's Investors Service by two levels to Ca Monday, only one score above default. The ratings company cited the Shanghai-based developer's weak liquidity and sales performance, plus its heightened refinancing risk. External auditor PricewaterhouseCoopers LLP issued a disclaimer April 15 that said they have doubts the company can prepare its results on a going-concern basis.
"Given that most of Glorious's debt is secured, we believe the recovery prospects for offshore bondholders are low and are reflected in its Ca senior unsecured rating," Gerwin Ho, a Moody's senior analyst, said in the report.
Glorious had cash and cash equivalents, including restricted cash, of about 1.4 billion yuan ($226 million) as of the end of 2014 from about 3 billion yuan at the end of 2013, insufficient to repay its $300 million of offshore notes due in October.
Before it's here, it's on the Bloomberg Terminal.
LEARN MORE