Hong Kong Vote a Take-It-Or-Leave-It Moment for Democrats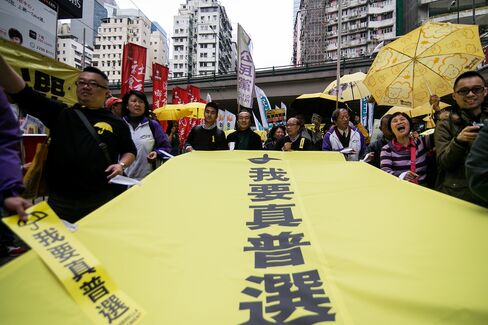 Whatever happens to the election overhaul the Hong Kong government is set to unveil today, China wins.
Chief Executive Leung Chun-ying is expected to give his final proposal for Hong Kong's first election of its top official. The plan will leave pro-democratic lawmakers with the toughest of decisions -- agree to a China-controlled contest or forgo the right to vote.
That choice sparked Hong Kong's most turbulent year since its return to Chinese rule in 1997, with police clashing with tens of thousands of protesters who wanted China to give up its demand to vet candidates for chief executive. Leung has said he won't stray from that road map, meaning he needs four Democratic lawmakers on his side to pass the bill.
"All the pressure is being brought onto the shoulders and heads of the pan democrats," said Alan Leong, leader of the Civic Party and a pro-democracy lawmaker. "What they are planning to do, by design, is to make us politically responsible."
Leung's deputy, Chief Secretary Carrie Lam, is slated to submit the administration's report on the election overhaul at the Legislative Council's 11 a.m. meeting.
Should lawmakers fail to agree to the plan by July, Leung's successor would be picked by a committee of tycoons, lawmakers and industry representatives, as it has been since 1997. According to a blueprint for reforms China announced in August, the same committee would vet a maximum of three candidates from which citizens can pick.
Revised Proposal
Wang Zhemin, a former member of a Chinese committee that oversees Hong Kong's constitution, defended that plan the same month, telling journalists that the city's first popular election must safeguard the interests of business groups to protect its economic future.
"It's one of the ultimate events after a year of fighting," Michael Davis, a law professor at the University of Hong Kong, said of the plan to be announced today. "The world, which has been watching the whole process unfold, will be looking for any sign that the government's been swayed by the protests."
The government's latest proposal is expected to include two nomination rounds, the Standard newspaper reported Wednesday. Candidates would need 120 votes, or 10 percent of the election committee, in the first phase. They would need a majority to stand for the citywide vote.
Student Protesters
Leung needs two-thirds of the Legislative Council to support the proposal. Any Democratic lawmakers who renege on a pledge last week to veto it risks incurring the wrath of students who led last year's Occupy Hong Kong protests.
"If those lawmakers turn their back on their promise, that will mean they've betrayed all the students who've come out in support" of the protests last year, said Joshua Wong, leader of the student group Scholarism. "I believe that will lead to various occupy and protest actions."
Protesters who took over key districts in October had initially won public support, before the toll on businesses and traffic sapped the city's patience. The police swept exhausted student protesters from the streets in December.
While a new protest camp outside the city's government offices has grown to about 100 tents, they're largely unoccupied. There have been no signs of crowds like those that filled the streets for 79 days last year.
Public Opinion
A survey last month by the Chinese University of Hong Kong found that 40.2 percent of people polled supported a proposal that would bar candidates who differ with the Chinese government, up from 29.3 percent in September.
Failing to agree to the electoral reform may lead to stagnation for China's biggest financial center, Leung said in January. Hong Kong's reputation among investors was affected by the protests and retailers had suffered, he said.
For some, such as university student Kenny Chan, Occupy Central endures. Last Thursday, Chan was studying under a canopy outside the city government complex, as he has most nights since December.
"I know there's not much hope that the government will have a different plan, but if anything Occupy has taught me that my voice should matter," Chan said. "I want to make sure people are clear we didn't come out here because it was the cool thing to do at the time. It's because we are prepared to take a stand for what we deserve."
Before it's here, it's on the Bloomberg Terminal.
LEARN MORE