Ex-Currency Chief Sees Bank of Japan Exit Nightmare on Debt Pile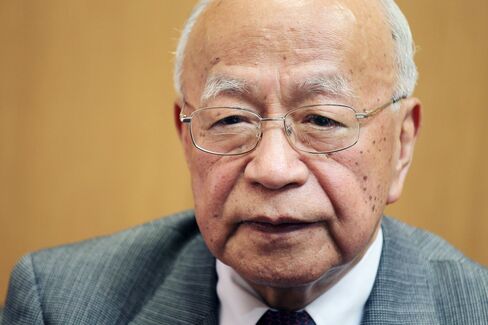 Japanese government debt twice the size of the economy will make exiting stimulus a nightmare for central bank Governor Haruhiko Kuroda, according to the nation's former top currency official.
Makoto Utsumi, who oversaw foreign-exchange policy at the Ministry of Finance from 1989-1991, said the Bank of Japan's expansion of its balance sheet into debt with an average remaining maturity of up to 10 years makes it impossible for Kuroda to pare stimulus "for the foreseeable future" without causing bond yields to surge. Speculation that the BOJ will accelerate its note purchases helped push two-year yields below zero percent on Wednesday for the first time since January.
"The thought of exit itself is a nightmare for Japan, not whether it's premature to talk about it," Utsumi, 80, said in an interview in Tokyo on April 15. "There is no choice but to keep issuing bonds for financing, and with buying of longer dated JGBs, a natural exit is out of question as is unwinding."
Prospects for an end to BOJ stimulus remain distant as the government struggles to sustain an economic recovery that's strong enough to weather tax increases needed to pay off the nation's debt. The central bank will expand monetary easing at its April 30 policy meeting, according to three of the 34 analysts surveyed by Bloomberg from March 31 to April 3.
Fiscal Woes
Yields on Japan's government bonds have fallen to record lows since Kuroda embarked on unprecedented monetary easing in April 2013 in support of Prime Minister Shinzo Abe's plan to pull the nation out of decades of deflation through fiscal stimulus and economic reforms.
Kuroda pledged in October to expand the monetary base at an annual pace of 80 trillion yen ($669 billion), increasing BOJ debt purchases to about 90 percent of monthly government bond sales. Meanwhile, the Abe administration projected that it will fail to reach its goal of achieving a primary balance surplus by the year starting April 2020, even if it proceeds with a delayed sale-tax increase to 10 percent in April 2017.
The BOJ's decision in October to extend the average remaining maturity of its Japanese bond purchases by three years means that the central bank would have to sell longer-dated securities to scale back easing, rather than let them mature naturally, Utsumi said.
Powerless Policy
"When consumer prices start to rise later in 2016, it will become clear that the BOJ will not be able to move to stabilize inflation, out of consideration for fiscal conditions," said Ryutaro Kono, Tokyo-based chief economist at BNP Paribas SA, said in a seminar in Tokyo on Wednesday.
Tackling Japan's fiscal problems will require changes to its tax policy as the aging population increases, said Utsumi, who also served as the president of debt-rating firm Japan Credit Rating Agency Ltd.
Social welfare took up about a third of the budget this fiscal year, while debt redemption and interest payment costs made up 24 percent. Japan's debt was estimated to have reached a record 1.06 quadrillion yen at the end of March, finance ministry data showed.
Organization for Economic Cooperation and Development in its report released last week warned that "the impact of the high debt is mitigated by low long-term interest rates, but weakening confidence would cause interest rates to rise substantially."
Complacent Market
Despite the dire fiscal state, Japan is "mired in complacency," said Utsumi, who is now chairman of global advisory board for Tokai Tokyo Financial Holdings Inc.
Spreads on dollar-based five-year credit default swaps, a gauge of risk for holding Japanese sovereign debt, shrank to a six-month low of 33.5 basis points or 0.335 percent on March 30, according to CMA data. The spread has halved since the start of this year.
Japan's 10-year yield was at 0.3 percent as of 3:11 p.m. in Tokyo, after tumbling to a record low of 0.195 percent in January. Two-year yields declined to minus 0.005 percent.
The Basel Committee on Banking Supervision is weighing updating the rules to push for stricter capital requirements for rate risk on assets lenders plan to hold to maturity, amid concern that some banks may not be prepared for higher rates when central banks end monetary easing.
"If this global move is applied to Japanese sovereign debt, Japan will be on course to failure," Utsumi said. "It's frightening."
Before it's here, it's on the Bloomberg Terminal.
LEARN MORE