Zurich Insurance Warms to Junk Credit Amid Low Yields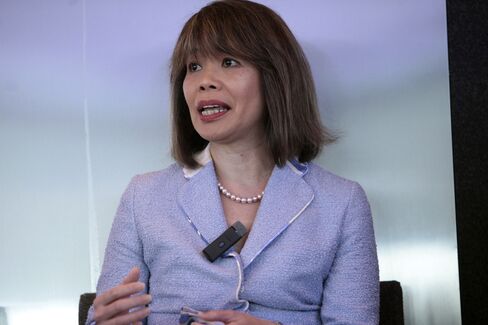 Zurich Insurance Group AG, Switzerland's biggest insurer, became the latest firm to buy junk bonds and loans after the European Central Bank's quantitative easing pushed yields on investment grade debt into negative territory.
"We are in most sectors of the credit markets already, in corporate, financials, municipals and asset-backed securities," Chief Investment Officer Cecilia Reyes said in an interview in Zurich. "We are not quite there yet in below investment grade - - that's the area we will move in to now to get a holistic exposure to the credit market."
Zurich Insurance, with $205 billion of investments, is joining insurers including Italy's Assicurazioni Generali SpA in investing in junk debt after sliding interest rates slashed returns from safer investments. Analysts including Thomas Seidl at Sanford C. Bernstein in London have warned that the ECB's program, based on purchases of sovereign debt, may accelerate the creation of credit bubbles, and insurance companies, traditionally among the biggest buyers of debt, will drive that process.
Lower yields on fixed income contributed to a 20 percent decline in Zurich Insurance's fourth-quarter net income to $858 million.
"We are now starting to allocate actively a very small amount of our credit portfolio to high yield, mainly in the BB and BB- space," said Reyes, who worked as head of risk analytics at ING Investment Management in Amsterdam before joining Zurich. "We are not going big-time -- it would be a modest portion of the total credit portfolio."
Riskier Assets
As interest rates on bonds decline, prices rise, meaning insurers are able to book gains if they sell investment grade debt before it matures. As the firms rely on returns from investments to pay policyholders, some are opting to buy riskier assets such as junk bonds, corporate debt and high-yielding loans rather than re-invest in securities at a higher price.
Gains from selling $3 billion of bonds and equities last year helped increase the return on Zurich Insurance's investments to 4.5 percent from 3.5 percent in 2013.
Fixed income makes up 80 percent of Zurich's investments, of which about 40 percent is credit, Reyes said.
Reyes said Zurich's new policy of investing in junk bonds also means it won't be forced to sell investment grade debt in the event that ratings companies downgrade it to junk.
Reyes, who was named CIO at Zurich in 2010, says she's not worried about asset bubbles for now.
"There is strong monetary policy support for risk assets," she said. "Central banks are still providing liquidity in the market and this will support equities and credit."
Before it's here, it's on the Bloomberg Terminal.
LEARN MORE