The $320 Billion Bogey Needed to Placate Stock Market Bulls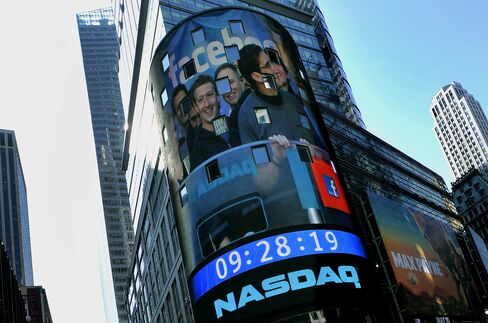 Few have benefited more from the U.S. bull market that started in 2009 than technology companies, and none are being counted on more by investors to deliver the earnings needed to keep it going.
As a group, the computer and biotechnology stocks that make up the Nasdaq 100 Index have seen their market value jump by $3.3 trillion since March 2009, more than any other industry. Now they're on the hook to generate $320 billion in profits this year, more than technology companies ever made at the height of the Internet craze.
Not pulling it off would add to a lengthening list of investor concerns that stretches from Federal Reserve interest rates to a run of subpar economic reports. Blanket statements about valuations are next to meaningless in a group where multiples vary more than they have at almost any time in 15 years. But the market's patience for failure is decreasing.
"These companies have to hit the cover off the ball," said Jeff Sica, who oversees $1.5 billion as president and chief executive officer of Circle Squared Alternative Investments in Morristown, New Jersey. "If they don't do well, you might as well count the minutes until this bull market is over."
Earnings Surprises
Not pulling it off is also a long shot. Between two of the four biggest tech giants announcing results this week, Facebook Inc. and Microsoft Corp., only three of their last 18 combined quarterly earnings reports came up short. Overall in the season that began two weeks ago, about 80 percent of tech companies have reported profits that exceed analysts' average estimate.
Nor are investors panicking. While Nasdaq shares were knocked down with the rest of world stocks on Friday, they're closing in on a milestone. Thirteen years after hitting bottom in the dot-com collapse that erased $6 trillion from equities, the Nasdaq 100 is within 8 percent of retaking the record high set in 2000 after rising 317 percent since 2009.
"Earnings and margins are high in these firms -- that's one of the reasons why capital is flowing so readily to them," said Alan Gayle, director of asset allocation at RidgeWorth Investments in Atlanta. The firm oversees $43.5 billion. "The ability to make money is key and is one of the things that separate the current bull market from the one that led to the technology bubble."
Profits Triple
Since 2000, the importance of technology earnings to the U.S. market has steadily grown. Computer and software companies in the Standard & Poor's 500 Index earned a record $194 billion from continuing operations last year, about 19 percent of the benchmark index as a whole. That compares with $67 billion in 2000, or 13 percent, data compiled by S&P Dow Jones Indices show.
U.S. stocks rose Monday as the S&P 500 rebounded from its biggest slide in three weeks, adding 0.9 percent as of 9:59 a.m. in New York. The Nasdaq 100 climbed 0.8 percent.
As a whole, the Nasdaq 100 trades at 22.9 times earnings per share, above the average valuation of 19.2 over the last five years but below the mean level of 23.5 since the start of 2005, data compiled by Bloomberg show. The gauge fetches 2.9 times annual sales, compared with 2.5 over the last decade.
"Valuation isn't a problem for the sector itself," said Tom Mangan, who helps oversee about $6.4 billion as a money manager at James Investment Research in Xenia, Ohio. "Businesses have to want your products to remain competitive. We're somewhat confident that we'll see that confirmed."
Valuation Spread
Within the Nasdaq 100, the diversity of valuations has rarely been wider. The average deviation from the mean price-earnings ratio is 106 percent, with profit multiples ranging from 2,654 at the high to 8.3 at the low, data compiled by Bloomberg show. Stripping out the impact of newly public Facebook in 2012, the only time differences were greater was in 2000.
The spread represents the gap between older companies that trace their lineage back to the 1990s or further and the newer breed of social media companies as well as biotech. Micron Technology Inc., Intel Corp. and Qualcomm Inc. are among stocks with price-earnings ratios below 15 while Facebook and Regeneron Pharmaceuticals Inc. are above 70.
Microsoft reports third-quarter results April 23. Analysts see profit falling 23 percent and sales rising 3 percent, according to data compiled by Bloomberg. The shares are trading for 15.8 times earnings in the last 12 months, near the average since 2005 and more than 2 points below the S&P 500.
Facebook, Google
Analysts say Facebook will see profit growth of 19 percent and sales expansion of 43 percent in the first quarter. Valued at four times the multiple of the S&P 500, the stock is still much cheaper than it has been over the last three years, when the price-earnings ratio averaged more than 300.
Earnings for Google Inc. grew 6 percent in the first quarter, while sales increased 15 percent, according to analyst estimates compiled by Bloomberg. The search engine giant trades closest to the Nasdaq 100 multiple at 26.3 times earnings, down from a 10-year average of 34.8.
Declines in the biggest U.S. tech stocks and expansion in their profits have done much to close the valuation gap from 2000. How overvalued where they then? Based on prices at the Nasdaq peak and analyst forecasts for 2015, Microsoft was trading at a 15-year forward price-earnings ratio of 72, Cisco Systems Inc. at 41, Intel at 49 and Oracle Corp. at 45.
"I wouldn't call technology stock valuations stretched," Jason Benowitz, a New York-based senior portfolio manager who helps oversee $4.5 billion at Roosevelt Investment Group Inc., said by phone. "Many tech companies are considered value stocks."
Before it's here, it's on the Bloomberg Terminal.
LEARN MORE