Greenlight Warns of Earnings Risk to Market After GE Charge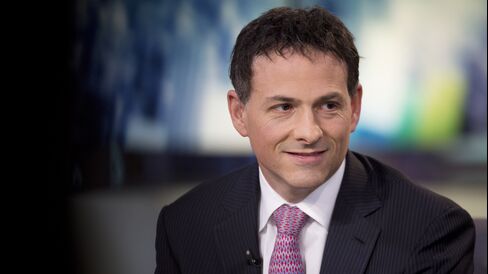 David Einhorn's Greenlight Capital warned that earnings degradation poses a risk to stock markets already trading at high levels.
"At year-end, first quarter earnings were supposed to grow about 5 percent, but now, they are expected to decline by a similar amount," the New York-based firm wrote in a letter obtained by Bloomberg. "This level of earnings degradation poses a risk to a market trading at a premium multiple of earnings assisted by record high margins."
Greenlight wrote in the April 20 letter that the full-year outlook for Standard & Poor's 500 Index earnings is even worse, because of lower energy prices and a stronger dollar. The firm also said General Electric Co.'s decision to restructure GE Capital would result in a $16 billion aftertax charge that would drain 5 percent to 7 percent from S&P 500 quarterly earnings.
"We think the market is too high if earnings have, in fact, peaked for the cycle, and we have reduced our net exposure by adding more shorts," the hedge fund wrote. Net exposure is calculated by subtracting the percentage of a fund's short positions, or bets on falling securities, from its longs, or wagers on rising stocks.
New Positions
Greenlight said it took new positions in Chicago Bridge & Iron Co. NV, General Motors Co. and AerCap Holdings NV in the first quarter. The firm said it bought shares of GM at $34.62 after selling a stake in early 2014, according to the letter.
GM is a year closer to eliminating its losses in Europe and that low gas prices should stimulate demand for its SUV and light truck products, according to the letter. GM shares rose
1.3 percent to $37.11 in New York.
Greenlight exited wrong-way wagers against companies that were involved in mergers in the first quarter, including short bets against Safeway Inc., Freescale Semiconductor Ltd. and Lorillard Inc., according to the letter.
It closed its bet against Lorillard Inc. because its thesis that there would be regulation of menthol cigarettes took too long.
"We still believe that the FDA is gearing up to do something major in this area, but because it anticipates an extremely aggressive industry response, it is moving slowly and deliberately," Greenlight wrote. The firm started a wager against Reynolds American Inc., which is working to complete its $25 billion acquisition of its rival cigarette maker Lorillard.
Greenlight lost 31 percent on Safeway, 71 percent on Freescale and 25 percent on Lorillard on an annualized basis, according to the letter. The funds fell 1.7 percent in the first three months of the year as the losses on shorts outweighed profits on bullish bets.
(An earlier version of this story corrected the Reynolds American position to say it's a bearish bet.)
Before it's here, it's on the Bloomberg Terminal.
LEARN MORE