Just How Leaky Is the Fed? More Than You May Realize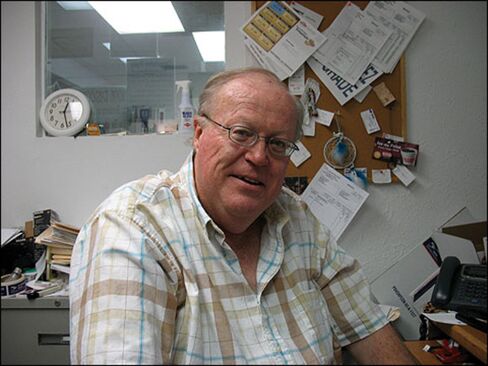 The leak came from the inner sanctum of Federal Reserve Bank of New York.
Inside the regal board room of the New York Fed in lower Manhattan, a director quietly telephoned a brokerage with inside information on interest-rate policy.
It was 1984, and the director, Robert Rough, had been tipping off the New Jersey brokerage for more than a year.
His story, a tale of clandestine calls and dishonest profits, stands alone: He was the first, and so far only, official indicted for divulging confidential Fed information.
Some three decades later, the Federal Reserve is once again confronting uncomfortable questions about possible leaks. So far little has come to light about who might have passed details of a 2012 Federal Open Market Committee meeting to a newsletter that caters to hedge funds.
No one suggests the potential wrongdoing this time was anywhere near what happened in the '80s. But those long-ago leaks, and others since that have gone unpunished, nonetheless illustrate how federal authorities have -- or haven't -- handled such misconduct in the past.
"We were always told that any unauthorized release of FOMC material was potentially a criminal offense," said Robert Eisenbeis, former research director at the Atlanta Fed. "That's why we took that sort of thing seriously."
How Leaky?
Eisenbeis, now chief monetary economist for Cumberland Advisors, was interviewed by the FBI as part of an investigation into a possible leak in 1996 after Reuters published a story that eight of the country's 12 regional Federal Reserve banks asked for an increase in the discount rate. He said he was given the impression, though never told, that the FBI interviewed everyone who had attended the FOMC meeting that preceded the article. The leaker in that case was never publicly identified.
Just how leaky is the Fed? Transcripts of FOMC meetings show discussions of at least five separate leaks between 1995 and 2009. None of those led to a leaker being named or pursued, or to anyone losing a job, said three former Fed officials.
That record is one reason lawmakers are demanding to uncover the details about the 2012 leak. Jeb Hensarling, the Republican from Texas who is chairman of the House Financial Services Committee, wrote to Fed Chair Janet Yellen last week saying the Fed's probe of the matter was "inadequate" and that the committee plans to conduct a thorough investigation.
Asking for Names
The letter -- which also was signed by Representative Sean Duffy, chairman of the Oversight and Investigations Subcommittee -- asked for the names of the "small few" employees who the Fed found had prior contact with the newsletter.
A spokesman for the Fed, David Skidmore, declined to comment on the April letter. He pointed to a written response from Yellen to Senate Banking Committee Chairman Richard Shelby, an Alabama Republican, dated March 31.
"The Federal Reserve has long cooperated with Congress including by providing Congress with confidential information about the Federal Reserve's activities, decisions, operations and responsibilities, both on the Federal Reserve's own initiative and in response to requests from Congress," Yellen wrote in that letter.
Criminal Investigation
Pressured by lawmakers, the Fed in March released a summary of an investigation by its board, which mostly examined a description of the meeting in a Wall Street Journal article and failed to identify the source for the newsletter's information, which included details on how the Fed planned to make rate decisions. The Fed inspector general is conducting a separate criminal investigation.
"This is a serious issue," said Allan Meltzer, a historian of the Fed and political economy professor at Carnegie Mellon University in Pittsburgh. "We don't want people to get an advantage."
Rough's leaks came to attention in 1987, after the firm he'd been tipping, Bevill, Bresler & Schulman, went bankrupt. A subsequent investigation -- overseen by now-Supreme Court Justice Samuel Alito, who was then the U.S. attorney for New Jersey -- revealed that from 1982 to 1984, Rough had called the brokerage after New York Fed board meetings. Bevill, Bresler traded in securities whose prices were influenced by the Fed-set rate.
'Living Hell'
Rough passed along information on how the New York Fed planned to vote on changes to the discount rate, his lawyer for that case, Michael Himmel, said in an interview. Rough also alerted the brokerage, before any public announcement was made, when the Federal Reserve Board was about to change the discount rate, Alito's office said in its 1989 press release announcing the plea.
He eventually pleaded guilty to bank fraud and was sentenced to six months in prison.
"I am an outcast in the banking community and my own community," Rough told the judge at his sentencing, recalled Himmel, now a partner at Lowenstein Sandler LLP in New York. "These past few years have been truly a living hell."
Rough told the judge he revered the Fed and had a picture on his wall of Paul Volcker, who was the Fed chairman when Rough served. He added that as a result of his indictment, his money was gone, his career finished and his reputation ruined.
Rough, who died of cancer last year at 74, emerged penniless from prison and never again worked in banking, his brother George Rough said in a telephone interview.
Robert Rough eventually moved to Florida, where he had a market stand and sold beads for bracelets and necklaces.
"If he did something stupid, I don't judge that. He ended up paying for it," George Rough, 80, said of his brother. He bristled at the lack of punishment for other Fed leaks.
"If somebody leaks information, then they should be subject to the same punishment that Rob was," George Rough said. "They did something wrong. They should have known better."
Before it's here, it's on the Bloomberg Terminal.
LEARN MORE