Dreams of Europe Elusive for Those Who Wash Up in Italy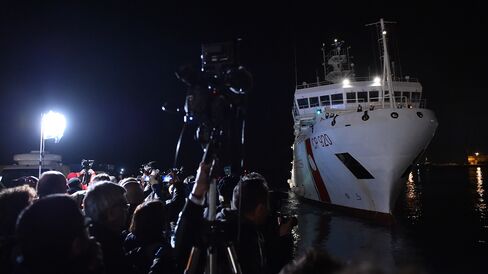 For many children whose refugee parents dreamt of a new life in Europe, the journey across the Mediterranean ended trapped in the hold of a rickety boat as it sank to the bottom of the sea.
Relief agencies say minors are increasingly attempting a crossing that claimed the lives of between 700 and 950 people when a ship capsized off the Libyan coast on Saturday, in what may prove to be the worst such disaster in the Mediterranean.
"We estimate some 50 children died in the hold with their mothers," said Andrea Iacomini, Italian spokesman for the United Nations Children's Fund, or UNICEF. "The aim was to pack in as many people as possible on board."
Those who make it to Europe alive often go missing, highlighting the fraught future facing migrants even once they reach the other side. Of the 12,000 children who arrived at so-called welcome centers in Italy this year, about 3,500 have disappeared without trace, Iacomini said from Rome.
"We don't even have these kids' fingerprints," he said. "We believe many end up in the hands of the mafia and other criminal gangs, often acting as couriers for drug traffickers."
Italy is the first point of contact in Europe for most of those fleeing war, poverty or simply seeking a better life.
Mediterranean Routes
According to Frontex, the European Union border-management agency, more than 170,000 migrants arrived in Italy in 2014, representing the largest influx into one country in EU history. That compares with 40,000 of them crossing the previous year to Italy and Malta, with Libya often the "nexus point" where migrants meet to embark.
The eastern Mediterranean route used by migrants crossing Turkey to the EU via Greece, southern Bulgaria or Cyprus was the second-largest area for border crossings in 2014, at 50,830.
Migrants who reach the Italian coast, or are saved at sea, spend their first three days on the mainland in the welcome centers, often in conditions of poor hygiene, according to relief organizations. As numbers rise, Italy has hastily opened centers "even in former nightclubs and buildings without windows," said Aurelie Ponthieu, humanitarian adviser at Medecins Sans Frontieres, or MSF, in Brussels.
Women and children are increasingly among the migrants, who according to Sicilian prosecutors pay as much as 4,000 euros ($4,290) each for the crossing.
'More Children'
"We're seeing more women, more children and even more babies," Ponthieu said in a phone interview. "That includes Eritreans. Before, crossing the Sahara to get to Libya was considered too dangerous, which only young men could try, but now more and more families are attempting it too."
According to Italian media, the survivors of Saturday's disaster came from Somalia, Eritrea, Mali, Senegal, the Ivory Coast, Ghana, Sierra Leone, Bangladesh and Surinam. The ship reportedly set out from Egypt, and docked in Libya to pick up more passengers.
One Bangladeshi survivor, quoted by the Rome newspaper La Repubblica, said he and several others survived because they were on deck. Many others remained prisoners in the hold because the traffickers had closed the hatches to stop them getting out, the survivor, who was taken to hospital in Catania in Sicily, was quoted as saying.
Once in Italy, migrants who apply for refugee status face a long wait, with the procedure taking up to six months. Under European rules, asylum-seekers can make the application only in the country of arrival.
Traveling North
Most migrants, however, prefer to leave Italy and travel north, chiefly to countries including Germany, Sweden and the U.K., because they have relatives or acquaintances there, and believe they have a better chance of finding work.
The United Nations High Commissioner for Refugees says that more than 35,000 refugees and asylum seekers have reached Europe by boat so far this year.
As EU leaders prepare for a special summit on Thursday to discuss the humanitarian crisis, Federico Fossi, a spokesman for the UNHCR in Italy, said they should act to avoid migrants risking their lives at sea.
"Germany is the most generous EU country for welcoming refugees from Syria, for example, but other countries should welcome more people seeking protection," Fossi said.
Last year, 203,000 people applied for asylum in Germany, with 81,000 applications in Sweden and 65,000 in Italy, according to Eurostat, the EU's statistics agency. Across the EU, 626,000 people applied for asylum, a fifth of them Syrians.
For Ponthieu at MSF, the lesson of the migrants' fate after they reach Europe is that EU governments should not focus just on preventing people reaching the continent.
"That's very short-minded and it doesn't solve the problem," Ponthieu said. "Closing borders causes more suffering, and it doesn't stop people coming all the same. They are so desperate they will come. They will risk their lives."
Before it's here, it's on the Bloomberg Terminal.
LEARN MORE