After 22 Years, Appellate Judge in Epic Pollution Case Suggests a Do-Over
The case that pits oil giant Chevron against a New York lawyer started in 1993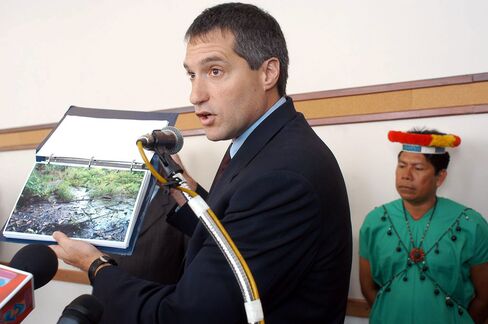 Judge Richard Wesley of the U.S. Court of Appeals in New York has a big, bold idea for the next step in a 22-year-long courtroom war over oil pollution in Ecuador: Start again, from scratch.
Wesley repeatedly suggested the do-over during a lively but inconclusive oral argument on Monday in the case that pits Chevron against Steven Donziger, a controversial New York plaintiffs' lawyer who successfully sued the oil producer in Ecuador, only to find himself branded a racketeer by a federal judge back in Manhattan. Here are highlights from the closely watched case about corporate accountability and alleged attorney misconduct:
First, some background
Since 1993, the New York lawyer has battled to hold the American oil industry responsible for massive contamination in a rain forest region of northeastern Ecuador. In 2011, Donziger won a multibillion-dollar judgment against Chevron in a trial court that held the American company responsible for pollution in the 1970s and 1980s. Upheld by Ecuador's highest court, that judgment is now worth about $9.5 billion.
In 2014, however, Chevron won a clashing ruling from a federal judge in Manhattan, who determined that Donziger's suit against the oil giant had devolved into a racketeer-style shake down of Chevron that included fabricated evidence, coercion, and bribery. The oil company is using the U.S. racketeering verdict as a basis for refusing to pay up on the Ecuadorian judgment. Wesley and two other members of the U.S. Court of Appeals for the Second Circuit heard arguments today in Donziger's appeal of the racketeering judgment.
'Just Like Starting Over'
Perhaps before today's hearing, Wesley listened to John Lennon's hit song from 1980. An appointee of President George W. Bush, Wesley dominated the give-and-take in the ornate 17th-floor courtroom in lower Manhattan. After asking numerous questions about procedural issues, Wesley confessed his fear that the Dickensian dispute would never end. "The breadth of this thing can be unmanageable at times," he said. A few minutes later, he asked Chevron's lawyer, Theodore Olson: "How much longer will this case last?" When Olson urged the appellate panel to bring the proceedings to an end by affirming the racketeering verdict against Donziger, Wesley responded that he had a different idea: starting over with a brand-new trial in federal court in New York. Wesley suggested that his concept—which neither side had proposed—would allow Donziger's clients, Ecuadorian farmers and indigenous tribe members, to try again to pin liability on Chevron, but without the taint of corruption.
The reaction
Caught by surprise, Olson didn't offer a clear response to Wesley and certainly didn't agree to go back to square one. In contrast, Deepak Gupta, the attorney representing Donziger, said he had no objection to a do-over. (Donziger's suit actually began in New York in 1993 before it was dismissed and restarted in 2003 in Ecuador.) Burt Neuborne, a New York University law professor who has parachuted into the case to represent Donziger's Ecuadorian clients before the Second Circuit, sounded downright enthusiastic about Wesley's proposal. "That a very original idea," Neuborne told Wesley. The NYU scholar, who argued that whatever punishment Donziger may deserve shouldn't apply to the impoverished Ecuadorians, called a new trial in New York "equitably the best answer."
Are we headed for a new suit?
In a word, no. Not a chance. Wesley's trial balloon will swiftly lose altitude. Neither of his panel mates, judges Barrington Parker Jr. and Amalya Kearse, showed even the slightest interest in their colleague's flight of fancy. Moreover, Wesley didn't explain what authority the Second Circuit has to transform the appeal of a civil racketeering verdict against Donziger into a fresh environmental suit against Chevron. In fact, the Second Circuit appears to lack any such authority.
Despite Neuborne's hasty endorsement of a do-over, the NYU professor seemed to be trading away the victory his clients won in Ecuador for the uncertainty of a new trial in New York. Surely Wesley was not suggesting that the Second Circuit could both bless the questionable Ecuadorian judgment and order Chevron to stand trial again on the exact same pollution allegations in New York.
While Wesley's frustration over endless litigation seems justified, his solution--assuming he was serious and not putting the attorneys and an overflow audience through some kind of law school Socratic exercise--just doesn't make sense.
Where that leaves us
Appellate panel member Parker indicated, via a series of understated questions, that he has no inclination to second-guess the factual trial findings about Donziger's misconduct. Parker also hinted that he thought the racketeering remedy—a judicial order barring Donziger from benefiting from his chicanery—was appropriate. Kearse, the third panel member, said almost nothing, making it impossible to read her reactions.
In short, it's difficult to say what the Second Circuit will do. The only thing that seems certain is that 22 years of lawyerly combat hasn't cleaned up any contamination in the rain forest. And there's no sign it will do so soon.
Before it's here, it's on the Bloomberg Terminal.
LEARN MORE