Migrant Boat With Hundreds Aboard Capsizes in Mediterranean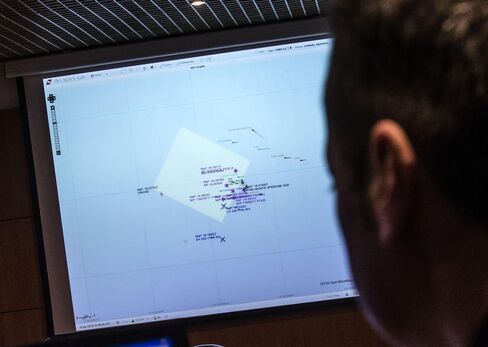 A fishing boat packed with an estimated 700 people seeking refuge in Europe capsized north of the Libyan coast, in what may become the most deadly such tragedy in the Mediterranean Sea.
Italy and Malta immediately deployed navy and coast guard ships in an effort to rescue survivors. Italian Prime Minister Matteo Renzi told a news conference on Sunday in Rome that 24 bodies had been recovered and 28 people had been rescued, adding that he hopes an urgent European Union summit on migration can be held by Friday.
"If confirmed, this would be the largest tragedy ever in the Mediterranean involving migrants," Maltese Prime Minister Joseph Muscat said in a telephone interview. "Nobody should be allowed to die this way."
Italy has faced a wave of migrants and refugees from Africa and the Middle East who board rickety vessels in Libya, paying human traffickers to take them across the Mediterranean to seek a haven in Europe. Italian politicians have been seeking increased international support to cope with the influx.
Refugee Influx
A Maltese military official, who asked not be identified, confirmed Italian news reports that about 700 migrants were on board when the boat left the Libyan port of Zuara. The official said the boat capsized about 61 nautical miles (113 kilometers) north of Libya late Saturday. The United Nations High Commissioner for Refugees also quoted Maltese authorities as saying 700 people were reported to be on board.
European Union officials have been calling for nations to do more to pool their resources in intercepting and handling the influx of refugees, with few concrete results.
The medical humanitarian organization Doctors Without Borders urged EU nations to urgently undertake large-scale search and rescue activities to avoid more deaths at sea.
"A mass grave is being created in the Mediterranean Sea and European policies are responsible," Loris De Filippi, president of the Italian branch of Doctors Without Borders, said in a statement sent by e-mail. "Faced with thousands of desperate people fleeing wars and crises, Europe has closed borders, forcing people in search of protection to risk their lives and die at sea."
Libya's Instability
Libya's instability has caused an increase in the numbers of refugees using the country as a starting-off point for journeys to Europe across the Mediterranean Sea.
"So far in 2015, more than 35,000 asylum seekers and migrants have arrived by boat in southern Europe and –- if today's toll is confirmed -– some 1,600 have died," the United Nations refugee agency said in a statement on Sunday. "In 2014, around 219,000 people crossed the Mediterranean, and 3,500 lives were lost."
European Union foreign ministers will discuss the migration issue at a meeting Monday in Luxembourg, EU foreign policy chief Federica Mogherini said in a statement on her website.
"I'll present a set of proposals for Libya, one of the main routes of illegal trafficking of migrants," Mogherini said.
Pope Francis, in his weekly Sunday address to thousands in St. Peter's Square, issued "an urgent appeal for the international community to act with determination and swiftness to avoid a repetition of similar tragedies."
Act Urgently
French President Francois Hollande said in a Canal Plus television interview that he called Renzi "to see how we can act urgently."
"The Mediterranean is a sea we share, between Africa and Europe, so we have to act. More boats, more overflights with planes, and a much more intense fight against the trafficking," Hollande said.
Italian news reports said the boat capsized when the passengers rushed to one side after spotting a merchant ship, in hopes of being rescued.
Before it's here, it's on the Bloomberg Terminal.
LEARN MORE