Li's Wrist-Slash Vow Tested as First State-Company Default Nears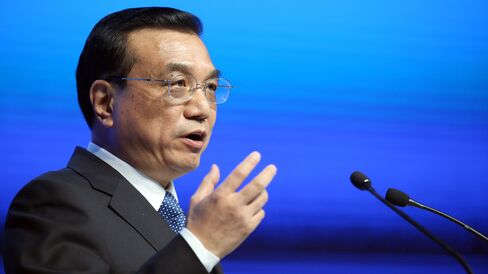 For two years Premier Li Keqiang has vowed painful state sector reforms that may feel like slashing one's own wrist. That resolve is about to be tested in China's bond market.
Baoding Tianwei Group Co., a unit of central government-owned China South Industries Group Corp., said on April 14 there's uncertainty it can make an 85.5 million yuan ($13.8 million) interest payment Tuesday because of "huge losses" last year in its alternative energy business. The B rated notes due April 2016 have dropped 6.7 percent this month to 85.65 percent of par, the most since they were issued in 2011.
While two private firms have reneged on debts, no state-backed company has defaulted on an interest obligation in the nation's domestic bond market as Li pledged to prevent a systematic fallout while allowing individual cases of financial risk. Cloud Live Technology Group Co., a restaurant-turned-Internet firm, missed a debt payment on April 7, becoming the second privately owned company to default on onshore bonds after Shanghai Chaori Solar Energy Science & Technology Co.
"The government may be testing how much the market can bear a default," said Qu Qing, a bond analyst at Huachuang Securities Co. in Beijing. "Cloud Live's default didn't cause a big market reaction. If a state-backed company defaults, investor worries about credit risks will spread more quickly than the two previous cases by privately owned companies."
'Biggest Risk'
Two calls to Baoding Tianwei Group seeking comment went unanswered April 17.
China's economy expanded at the weakest pace since 2009 last quarter, official data released on April 15 showed, with factory output and retail sales slowing. On Sunday, the central bank cut reserve-requirement ratios for banks by 1 percentage point, stepping up stimulus policies.
"Credit risk is the biggest risk to China's bond market this year," said Diao Huiyu, the head of fixed-income investment in Shanghai at Franklin Templeton Sealand Fund Management Co., which has about 14.7 billion yuan of assets under management. "The economic slowdown will further curb Chinese companies' profitability. The high leverage of Chinese companies is making things worse."
When Premier Li took office in March 2013, he pledged to open the economy to market forces and strip power from the government in a process he said would "feel like cutting one's own wrist." He repeated the analogy at the end of last month's annual session of parliament. "This is not nail-clipping -- it's wrist slashing," he said in a televised briefing.
Overdue Debt
China's corporate debt is the highest in the world, former central bank adviser Yu Yongding wrote in the official China Daily last week. Companies in China had $14.2 trillion in debt at the end of 2013, exceeding every other country including the U.S., which had $13.1 trillion in company obligations, Standard & Poor's said in a June report.
Baoding Tianwei isn't the first state-owned company to have run into financial trouble. China Erzhong Group Deyang Heavy Industries Co., state-owned maker of equipment used in steel manufacturing, had 7.26 billion yuan of overdue debt as of March 25, according to a March 27 company statement.
The yield premium of five-year AA- rated bonds over top-rated notes narrowed 4.5 basis points this year to 149.8 basis points as of April 17, according to data compiled by ChinaBond. The gap widened 11 basis points last week, the most this year, after Cloud Live's default.
"Investors have been obtuse in reacting toward credit risks because they saw limited impact from the defaults," Franklin Templeton Sealand's Diao said. "It's not a mature market. When we have more defaults, credit pricing will become more reasonable and investors will also turn cautious."
Money Transfers
By the end of last year, Baoding Tianwei had some 1.86 billion yuan of overdue borrowings, according to a statement from the company on April 3. Its 22.96 percent stake in listed firm Baoding Tianwei Baobian Electric Co. has been frozen by local courts because of its dispute with creditors, according to China Credit Rating Co.
The Baoding branch of Agricultural Bank of China Ltd. transferred some money from Baoding Tianwei Group's account to repay borrowings the company owed to AgriBank, Baoding Tianwei said in an April 13 statement. The bank didn't inform the company of the money transfer until March 26, it said.
China Lianhe Credit Rating Co. cut Baoding Tianwei's rating to B from BB, citing rising losses and debt repayment pressure, according to a statement posted on Chinamoney.com, a website of the China Foreign Exchange Trade System.
Beijing-based analysts Wu Wuyuan and Lin Hua at China Credit Rating said in a report on April 16 that Baoding Tianwei Group may become the first state-owned company to default on bonds because it's hard for the debt-stricken company to get funding from a third party.
Economy Slowing
"Banks and other institutions have been very pessimistic about Baoding Tianwei Group's repayment ability," Wu and Lin wrote. "Baoding Tianwei Group is still willing to pay the debt but has lost the ability."
The government shouldn't let a state-owned company default at a time when the economy is decelerating, according to China Merchants Bank Co. senior analyst Liu Dongliang.
"After the default, funding costs would rise for weaker companies and make it harder for them to survive," Shanghai-based Liu said. "A default after the economy stabilizes wouldn't have such a big impact."
China's GDP rose 7 percent in the three months through March from a year earlier, the statistics bureau said on April 15. Industrial production increased 5.6 percent in March, the weakest since November 2008, the data showed.
"The government should allow those weak state-owned companies that can't repay debt to default," said Li Ning, a bond analyst in Shanghai at Haitong Securities Co., the nation's third-biggest brokerage. "It won't cause systematic risk. It's a use of market forces to stop weaker companies from over borrowing."
— With assistance by Judy Chen
Before it's here, it's on the Bloomberg Terminal.
LEARN MORE