Iranian Commander Rejects Nuclear Inspections at Military Bases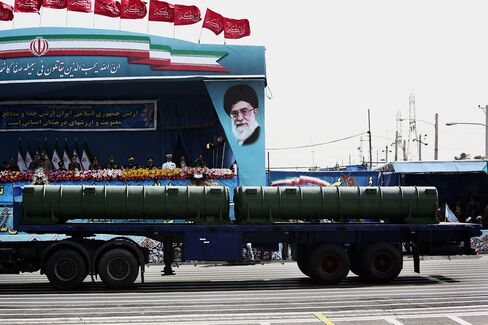 International inspectors won't be allowed access to military bases in a deal with world powers to curb Tehran's nuclear program, a top Iranian commander said.
"They will not even be permitted to inspect the most normal military site in their dreams," said Brigadier General Hossein Salami, deputy head of Iran's Revolutionary Guard Corps, according to the state-run Press TV news channel.
"Visiting a military base by a foreign inspector would mean the occupation of our land because all our defense secrets are there," Salami said. "Even talking about the subject means national humiliation."
Those comments underscored the difficulty that awaits negotiators from the U.S. and five other world powers as they try to reach a final accord with Iran by June 30 that would trade curbs on that country's nuclear program for a lifting of economic sanctions. Talks will resume this week in Vienna.
"Don't think there's a snowball's chance in hell that a Congress is going to approve this framework the way it's set up," Senator Lindsey Graham, a possible Republican presidential candidate, said on the "Fox News Sunday" program.
"Anytime-anywhere inspections of military/nonmilitary facilities will be a bipartisan must," said the South Carolina senator, who serves on the Armed Services Committee. "This idea that we can't go where we need to go is going to fail."
Suspicious Sites
A U.S. fact sheet issued by the State Department says that a framework for a deal, negotiated in Switzerland, calls for the right to investigate "suspicious sites" or allegations of covert activities "anywhere in the country."
A joint statement issued by Iran and the European Union on the day the framework was announced, April 2, refers only to an agreement to abide by an "additional protocol" of the International Atomic Energy Agency designed to give inspectors greater access to check for any clandestine nuclear work.
Secretary of State John Kerry has said any deal with Iran will include unfettered international inspections.
President Barack Obama has said criticism of the deal's framework in Iran isn't surprising and won't deter U.S. negotiators.
"What's always been clear is that Iran has its own politics around this issue," Obama said at an April 11 news conference. "They have their own hard-liners. They have their own countervailing impulses in terms of whether or not to go forward with something, just as we have in our country."
The two sides also disagree about the pace of any sanctions relief. While Kerry has said sanctions would be lifted "in phases" as inspectors verify Iran's compliance with nuclear obligations, Iran has said sanctions must be lifted as soon as a deal is reached.
While the U.S. and other world powers suspect Iran is trying to acquire nuclear weapons, Iran says its nuclear program is designed solely for peaceful civilian use.
Before it's here, it's on the Bloomberg Terminal.
LEARN MORE