Conservatives Vow Thatcher-Style Lloyds Sale to Investing Public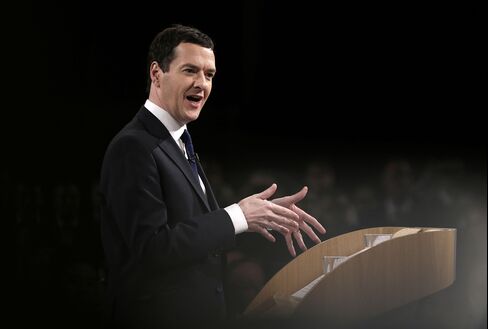 Britain's Conservatives plan to sell shares of bailed-out Lloyds Banking Group Plc to the public in a discounted mass privatization that recalls the selloffs of the Thatcher era in the 1980s.
In an interview with the British Broadcasting Corp., Prime Minister David Cameron said Sunday he wants to recoup the 20 billion pounds ($29.9 billion) taxpayers spent to bail out the nation's largest mortgage lender during the financial crisis. Earlier, Chancellor of the Exchequer George Osborne set out some details of the plans in a piece in the Sunday Telegraph.
"We've said we want to see Lloyds back in the private sector, but we haven't said there will be a retail offer to individuals so they can own shares in healthy successful British banks," Cameron told interviewer Andrew Marr. "We've already recovered billions, and this will help us to recover billions more to pay down the national debt."
The British will vote May 7 in an election that polls show is unlikely to produce a clear winner. The Conservatives, who are 23 seats short of a majority, are reaching for the playbook of the late Margaret Thatcher, who sold off state-owned companies and council-owned housing to win three terms as premier.
While the coalition government has been selling shares in Lloyds to professional investors, a future Conservative government will begin a sale to individuals within a year of the election, Osborne said, writing in the Sunday Telegraph.
People will be able to buy as little as 250 pounds of the shares up to a maximum of 10,000 pounds, with priority going to orders of up to 1,000 pounds, Osborne said. The offer will include a "loyalty bonus" giving people who own the stock for a year a free share for each 10 they own, he said.
'Tell Sid'
"Not only are we getting taxpayers their money back," Osborne said, "we are going to do it in a way that gives many more people a stake in our economy and encourages a culture of long-term share ownership."
In 1986, the Thatcher government sold shares in British Gas Plc after an advertising campaign helped attract about 1.5 million individual investors and raised about 9 billion pounds. It used the slogan "If you see Sid, tell him," which became famous for its effectiveness in spreading word of the sale.
Lloyds returned to a profit in 2014 for the first time since it was bailed out in 2008. The government still has a 22 percent stake in the bank, down from 40 percent following its rescue.
Plans for the privatization come after a promise to give tenants of housing associations -- charitable bodies that rent homes to those deemed to be in need -- the right to buy their dwellings at a discount to the market.
Chancellor George Osborne
Before it's here, it's on the Bloomberg Terminal.
LEARN MORE