Carstens Won't Rule Out Low Mexico Rates Following Fed Move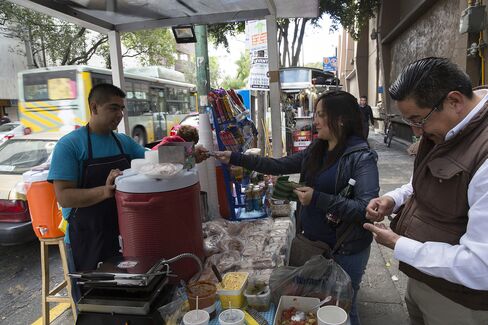 Mexican central bank Governor Agustin Carstens doesn't rule out keeping interest rates at a record low even after the Federal Reserve begins to tighten, given slow growth and inflation in Latin America's second-largest economy.
The peso weakened to the lowest level in more than a month.
Carstens also said Mexico will benefit from faster growth in the U.S., and that the peso is undervalued as investors focus on the outlook for higher U.S. rates rather than Mexico's economic potential.
"All options are open" for monetary policy, Carstens said Sunday in an interview in Washington after the spring meetings of the International Monetary Fund and World Bank.
Policy makers must "balance the fact that the domestic determinants of inflation would indicate that we need to keep interest rates lower, and being mindful of that we have to evaluate what the external signals tell us." He said those signals are prospects for tighter Fed policy and exchange-rate swings.
In minutes of its March meeting, Mexico's central bank signaled that it will keep the key rate at 3 percent at least until the U.S. raises borrowing costs. The peso last month tumbled to the weakest level since its redenomination in 1993 reflecting the impact of low crude prices on growth in a country that depends on oil for a third of public revenue.
Weaker Peso
Mexico's currency commission, made up of officials from the Finance Ministry and central bank, on March 11 announced $52 million in daily dollar sales through June 8 to help stabilize the peso. Asked if the commission will continue the sales beyond June, Carstens said the decision will "depend on the evolution of events as we move forward."
The peso fell 0.4 percent to 15.3928 per dollar at 12:25 p.m. in Mexico City after earlier touching the weakest level in more than a month. Yesterday's statements by Carstens contributed to the decline, said Juan Carlos Alderete, a currency strategist at Grupo Financiero Banorte SAB, in Mexico City.
"He's giving a more dovish signal to the market than what we've been seeing, more than anything because he doesn't exclude the possibility of not following the Fed," Alderete said in an e-mailed response to questions. "His comments reaffirm that monetary policy probably won't be a support factor for the peso at least in the short term."
Rate Cuts
Mexican policy makers cut interest rates over the past two years to boost a $1.26 trillion economy that grew less than analysts forecast in eight of the past 11 quarters. The central bank is now concerned foreign investors could pull money out of Mexico as higher U.S. rates reduce the relative attractiveness of Mexican assets.
While Mexico's government cut its 2016 growth forecast last month, Carstens said it would be premature to say whether the central bank will do the same.
Banco de Mexico typically adjusts growth projections each quarter, and the next report is due May 19. Carstens said policy makers need to see more first-quarter data before releasing their next report. In the past, he has sometimes telegraphed changes to the forecast.
The central bank reduced its 2015 outlook for a second time in February, to 2.5 percent to 3.5 percent.
Industrial Production
"The oil issue has been an important one, but on the other side we have seen some better figures on some items of consumption and industrial production," Carstens said.
The bank probably will keep borrowing costs unchanged until the third quarter, when it will raise them for the first time since 2008 as the Fed tightens, according to the median forecast of economists surveyed by Bloomberg.
At the Mexican central bank's rate-setting meeting in March, two of the board's five members said the bank wouldn't gain much by acting ahead of the Fed, and that doing so could be an error given sluggish growth, according to minutes of the meeting. Carstens declined to say if he was one of those two members.
Mexico's annual inflation rate in February fell to 3 percent, the lowest level since 2006 and matching the central bank's goal. A majority of the central bank's board expects price increases to remain near 3 percent this year and next.
Before it's here, it's on the Bloomberg Terminal.
LEARN MORE