Check Point CEO Hustles to Stay on Top Amid Cyber Stock Surge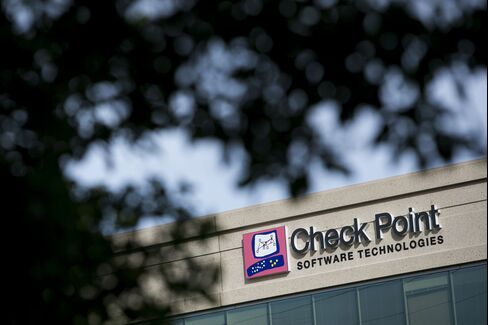 High-profile cyberattacks have driven shares of Check Point Software Technologies Ltd. to the highest since 2001. But the world's top firewall provider isn't getting too comfortable.
Chief Executive Officer Gil Shwed, who reported first-quarter earnings on Monday, is stepping up efforts to defend against younger competitors like Palo Alto Networks Inc., whose sales are forecast to grow nearly six times faster than Check Point's in 2015. The Tel Aviv-based company bought two cybersecurity startups this year, its first acquisitions since 2011, Bloomberg data show.
Check Point, which has the highest operating margin among 20 global peers, has long been viewed by investors as a steady bet among cybersecurity vendors, copying new technologies from upstart competitors and incorporating them into its suite of security products. Rapidly evolving cyber threats and growing competition mean Shwed is not taking the boom in security demand for granted, said Daniel Ives, an analyst at FBR Capital Markets & Co.
"Right now they're in the sweet spot, but if you think about the next generation of security spending, adding new products is key," Ives said by phone from New York. "The Street wants them to be more aggressive" on mergers and acquisitions, he said.
Check Point shares touched $85.22 on April 8, the highest since February 2001. They've risen 22 percent in the past year, compared with Palo Alto Network's 104 percent gain and a 56 percent jump by Sunnyvale, California-based network security provider Fortinet Inc.
Market Share
Check Point's 22.7 percent market share in 2014 for firewall equipment, which protects companies' computer networks from unauthorized access, was No. 1 in the world, according to Gartner Inc. Still, its share shrank while third-ranked Palo Alto and fourth-ranked Fortinet gained, to 15.9 percent and 11.5 percent, respectively.
The company's first-quarter revenue increased 9 percent to $373 million, according to Check Point's earnings report, and it posted a quarterly non-GAAP earnings per share of $0.95, exceeding the average of 27 estimates by 4 cents. Check Point sales are forecast to grow 8.4 percent this year to $1.6 billion, compared with a 47 percent increase to $881 million at Palo Alto Networks, according to the average estimate of analysts surveyed by Bloomberg.
In an April 2014 Gartner report, analysts noted that while Check Point's console for corporations to manage security threats was the "de facto gold standard" in the industry, the company struggled to market to new clients, instead choosing to expand with existing customers.
Hiring Hundreds
It's a weakness Shwed seems keen to fix. He told investors on an earnings call in January he planned to attract new customers, aiming for double-digit revenue growth by 2016.
"We are not capturing the full opportunity of the market," he said on the Jan. 29 earnings call. "Existing partners and customers can get more attention from us, and all of that can lead at the end to a higher growth rate."
The company plans to employ 700 new workers globally this year, in research and development, and sales and marketing, Shwed said at a press conference in Tel Aviv on Monday.
While Check Point may be feeling competitive pressure, its market share is stable because it's still grabbing business from older network security companies like Cisco Systems Inc., said Jonathan Ho, an analyst at William Blair & Co. in Chicago.
He expects Check Point to keep operating margins above 50 percent in spite of increased investment, while data breaches at companies from JPMorgan Chase & Co. to Sony Pictures Entertainment will fuel corporate spending on cybersecurity.
Threat Environment
"The threat environment is going to lead to increased demand and that trend isn't going to go away anytime soon," Ho said by phone. "I see further upside as budgets increase."
The majority of analysts are still bullish on Check Point - - 22 of 35 recommend buying the shares, while 13 have a hold rating, according to data compiled by Bloomberg. The Israeli company trades at 20 times future 12-month earnings, compared with an industry average of 55, Bloomberg compiled data show.
Shwed, who founded Check Point in 1993, is conservative in his approach to acquisitions and unlikely to go on an expensive buying spree, Ho said. Check Point announced in April it was buying Laocoon Mobile Security to catch malware on companies' smartphones, and it acquired Tel Aviv-based Hyperwise in February to target attacks before they infect a network.
"They are buying some next-generation technology to help reaccelerate their growth," said Joel Fishbein, an analyst with BMO Capital Markets in New York who has a neutral rating on Check Point shares. "The stock has done well because a rising tide has lifted all boats."
Before it's here, it's on the Bloomberg Terminal.
LEARN MORE