Intel Slump Shows How Important ETF Recipes Are to Return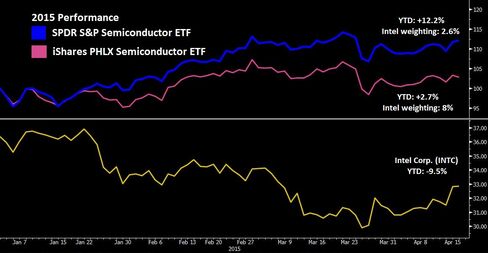 This year's slump in shares of Intel Corp. and a few other big chipmakers is highlighting how exchange traded funds tracking the same industry can have vastly different returns depending on the formula used to create them.
The iShares PHLX Semiconductor ETF is based on the Philadelphia Semiconductor Index that is weighted by companies' market capitalization, so Intel makes up 8 percent of it. The ETF has risen 2.7 percent since the start of the year, as this chart shows. Intel accounts for less than 2.7 percent of the SPDR S&P Semiconductor ETF, which tracks an equal-weighted index covering the same industry and has surged 12 percent.
Intel, Qualcomm Inc. and Micron Technology Inc. were three of the four biggest weightings in the Philadelphia Semiconductor Index at the end of 2014 and each has slumped about 9 percent or more this year. The three stocks, plus SanDisk Corp., are the biggest drags on the gauge.
"Semiconductors have become more homogeneous, but you can't just paint the brush broadly," said Walter Todd, who oversees about $1 billion as chief investment officer for Greenwood, South Carolina-based Greenwood Capital. "It pays to figure out the attributes of the different companies, and clearly Intel is struggling right now."
The Philadelphia Semiconductor Index has almost quadrupled since the start of the six-year bull market, a period over which Intel has jumped more than 160 percent.
Before it's here, it's on the Bloomberg Terminal.
LEARN MORE