China's Smart Money Is Riding the Stock Boom as Amateurs Rush In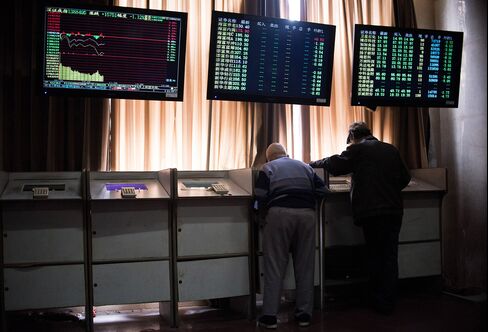 Individual investors aren't the only ones pouring cash into Chinese stocks after they surged faster than any other market worldwide.
Five of the 11 professional money managers from mainland China, Hong Kong and Taiwan surveyed by Bloomberg from April 8 to 16 said they plan to boost holdings of yuan-denominated A shares this quarter, while four will maintain positions and just two will reduce their stakes. Technology, consumer, health-care and financial shares were preferred industries among the managers, who oversee a combined $41 billion.
The responses show the Shanghai Composite Index's 99 percent surge over the past year, driven by a record pace of new stock-account openings, still has support outside the Chinese individuals who comprise at least 80 percent of trading. Institutional investors are betting that sustained inflows, interest rate cuts and prospects for an improving economy will keep the rally going.
"New funds have been continuing to flow into the market and I need to follow the trend," Dai Ming, a money manager at Hengsheng Asset Management Co., which oversees 1.2 billion yuan ($194 million), said in Shanghai. "Furthermore, China's economy will make headway going forward."
The Shanghai Composite rose 2.2 percent to 4,287.30 at the Friday close, the highest since March 2008.
Mainland investors have opened a record 10.8 million new stock accounts this year, more than the total number for all of 2012 and 2013 combined, data from China Securities Depository and Clearing Co. show. The flood of money from these rookie stock pickers has helped feed market momentum after policy makers stepped up efforts to bolster an economy expanding at the slowest pace since the global financial crisis six years ago.
More Gains
The government won't allow growth to fall below this year's target of 7 percent, said Hao Hong, head of China research at Bocom International Holdings Co. in Hong Kong, who forecasts at least three more interest-rate cuts in 2015 following reductions in November and March. Premier Li Keqiang said this week that China will accelerate targeted measures to support the economy after it expanded at the slowest pace since 2009 in the first quarter.
The Shanghai Composite, up 30 percent in 2015 through Thursday, will probably rise an additional 14 percent by year-end as the government adds stimulus and investors speculate mainland shares will be included in MSCI Inc.'s global indexes, Henry Lin, the president of Fubon Asset Management Co. in Taipei, said April 13. Inclusion in MSCI indexes could fuel buying from investors with an estimated $9 trillion of assets benchmarked to the gauges worldwide.
Cheap Stocks
Bullish money managers are also betting that President Xi Jinping will take more measures to make state-owned enterprises more efficient and shift the economy toward domestic consumption. The anticipated start of an exchange link between Hong Kong and Shenzhen this year will facilitate more stock purchases from international funds, they said.
Some investors are using Shanghai's exchange link to shift holdings to Hong Kong. Dual-listed shares of Chinese companies are valued at a 25 percent premium on the mainland versus the former British colony, according to the Hang Seng China AH Premium Index.
Shanghai Simpleway Asset Management Co., which oversees 2 billion yuan, is buying Hong Kong equities through connect and avoiding smaller mainland companies, Gui Jiang, the firm's general manager, said in an April 9 phone interview. Shares listed in Hong Kong are cheaper, said Gui, who plans to raise the proportion of the city's equities in his fund to 50 percent or more from the current 20 percent.
"The valuations of small caps have risen to crazy levels," he said. The ChiNext index of small-cap shares trades at 81 times reported earnings, compared with a ratio of 21 for the Shanghai Composite and 11.7 for Hong Kong's Hang Seng Index.
Money managers from Prudential Financial Inc., Allianz Global Investors, Capital China New Opportunity Fund, JPMorgan Taiwan China A Share Equity Fund, HSBC China A-Share Focused Fund, HSBC Jintrust Fund Management Co., Beijing StarRock Investment Management Co. and Baring Asset Management also took part in the survey.
— With assistance by Cindy Wang, Amy Li, and Shidong Zhang
Before it's here, it's on the Bloomberg Terminal.
LEARN MORE