Today's Mad Men Are Flocking to Amsterdam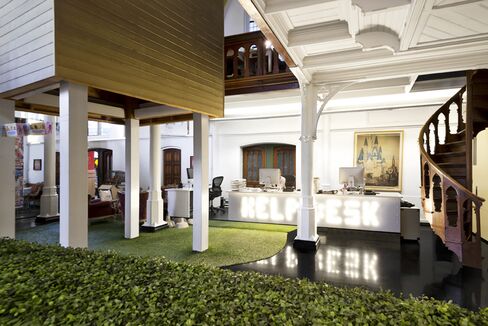 If Don Draper inhabited a world of legal pot and YouTube instead of three-martini lunches and network television, his office might well be on Amsterdam's Herengracht.
Today's Mad Men are flocking to the Dutch canal city as the industry develops new hubs beyond traditional centers like New York's Madison Ave. -- home to Draper and his fictionalized agency -- and Charlotte Street in London.
Amsterdam's reputation is growing as local upstarts win worldwide accounts from giants such as Google Inc., Adidas AG and Ikea. And the appeal of the city's laid-back, bike-everywhere vibe is helping attract the talent.
"It's a tiny city that genuinely punches above its weight," said Kerrie Finch, a British expat who owns Amsterdam marketing agency FinchFactor. "London is very British and the U.S. is very New York or L.A.; the Dutch embrace other cultures."
Amsterdam's advertising, gaming, media and design companies generate some 4.3 billion euros ($4.6 billion) in annual sales, according to the VEA industry trade group. The number of ad agencies in Amsterdam has doubled since 2011 to more than 200, the VEA estimates, while employment has grown 25 percent to about 20,000 -- more than twice the pace of the U.S.
While ad agencies can be found in any major city, Amsterdam has prospered as marketers followed companies setting up European headquarters in the Netherlands, with its generous corporate tax rates. Last year, 139 multinationals, including video streamer Netflix Inc., ride-hailing service Uber Technologies Inc. and office-supply retailer Staples Inc., established offices in or near Amsterdam.
'Unhate'
The city's agencies have crafted award-winning campaigns such as Benetton's "Unhate" in 2011, from the Amsterdam staff of Los Angeles-based 72andSunny, which featured the likes of Barack Obama and Hugo Chavez kissing. For the 2010 World Cup, Wieden + Kennedy Amsterdam created Nike's "Write the Future" campaign with soccer greats Wayne Rooney, Cristiano Ronaldo and Didier Drogba. In December, the local office of Anomaly won the global account for Johnnie Walker whiskey.
"There are undeniable financial incentives complemented by high talent and low egos," said Amanda Feve, an American who heads strategic planning at New York-based Anomaly's Amsterdam office.
KesselsKramer, whose clients include Diesel, Aer Lingus and Umbro, sits near Herengracht, a canal that has become the hub of the city's ad business. Inside a converted 19th-century church, desks are clustered around the altar and wooden staircases lead to offices that perch above the nave like treehouses. For entertainment, there's a pinball machine and an old arcade game with animatronic monkeys playing drums, trombone and clarinet.
Productive Creators
In Amsterdam, "you have fewer people working on a project and you don't have gigantic spending," said Erik Kessels, who co-founded the agency in 1996 after working in London. "So the creative people here are producing more. And making more and making often are the key to creativity."
As the industry has grown, the local upstarts have started expanding. KesselsKramer in 2008 opened its first overseas office in London, and in 2012 the agency added a location in Los Angeles. In the past three years MediaMonks -- which works with British Airways, Google, and pickup-truck maker GMC -- has opened offices in London, Singapore, New York and Dubai. Superheroes, which has produced ads for Coca-Cola and LG, opened a New York office in November.
The seeds of today's Amsterdam ad boom were planted in 1992 when Nike chose the Netherlands for its European headquarters. A few months later Wieden + Kennedy, the lead creative agency for the shoemaker, followed its most important client. Today, Wieden + Kennedy's local office works with big brands such as Booking.com, Heineken and Coca-Cola.
"This is the Dutch Madison Avenue," said Mark Bernath, an American who works as one of two executive creative directors at Wieden + Kennedy's Amsterdam office. "There's a lot of experimentation here. It's a very open society, and creativity loves as many sorts of stimulants as possible."
'Impossible is Nothing'
Wieden's office has spawned at least four local shops, including We Are Pi and 180 Amsterdam, which developed the Adidas "Impossible is Nothing" campaign.
"It's amazingly easy to live here," said Al Moseley, president of 180, which now works for clients such as Sony and DHL. "I bicycle past beautiful buildings, walk in, and my mind is focused on our business and clients and not standing on the tube with an armpit in my face."
(An earlier version of this story corrected the name of the Adidas campaign developed by 180 Amsterdam.)
For related news and information: Berlin's Not as Cool as You Think as Lobbyists Move In: Cities IBM Uses Dutch Tax Haven to
Before it's here, it's on the Bloomberg Terminal.
LEARN MORE