Goldman Cuts Iron Ore as Walsh Says 'More to Do' Amid Glut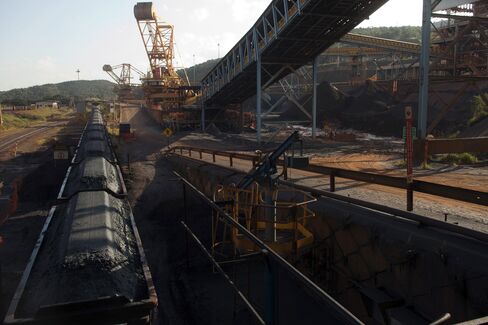 The entire global iron ore industry apart from the three biggest producers faces an existential challenge as demand will peak next year, according to Goldman Sachs Group Inc., which joined banks reducing price forecasts.
Iron ore will average $52 a metric ton this year, 18 percent less than previously forecast, analysts Christian Lelong and Amber Cai wrote in a note on Thursday. The bank cut its outlook for next year by 29 percent to $44 and lowered estimates for 2017 and 2018 by 33 percent to $40, according to the report.
Iron ore fell below $50 this month as surging low-cost output from BHP Billiton Ltd., Rio Tinto Group and Vale SA fed a surplus and demand in China faltered. The world's three biggest producers will press on with their expansions, while as much as half of the rest of the industry may close, Lelong and Cai wrote. BHP and Rio have defended their strategy of boosting output at a time of falling prices, saying cutting back wouldn't be in their shareholders' interest.
"New producers have entered the iron ore market over the past decade while a fifth of the world's population embarked on a steel binge: now this process is starting to reverse," Lelong and Cai said. "From a producer's perspective, the end of the bull market will prove to be as painful as the start of the bull market was alluring."
Moody's Warning
Goldman joined JPMorgan Chase & Co., UBS Group AG and Citigroup Inc. in cutting price estimates this month, while Moody's Investors Service warned on Thursday that the market is drowning in oversupply. Should the majors cut output, that strategy would only help smaller miners, according to Goldman.
"With iron ore now trading around $50 a ton delivered into China, we have more to do to ensure that we maintain the margin between ourselves and the high cost producers," Rio's Chief Executive Officer Sam Walsh told shareholders in London on Thursday. "Being the lowest cost producer is not about a competition, or a bid to secure bragging rights. Rather, it's fundamental to the health of our business."
Ore with 62 percent content at Qingdao declined 1.1 percent to $49.78 a dry ton on Thursday, according to Metal Bulletin Ltd. It fell to $47.08 on April 2, the lowest since 2005, based on daily and weekly data from Metal Bulletin and annual benchmarks for ore delivered to China from Clarkson Plc. It's 30 percent lower in 2015 after losing 47 percent last year.
Peak Demand
Goldman's analysis divided suppliers into two groups, with the biggest -- BHP, Rio and Brazil's Vale -- in the first and all the rest in a second tier. While the three top producers have no alternative but to raise output, cut costs per ton and exploit their asset bases more efficiently, the rest of the industry is now facing an existential challenge, it said.
"We expect seaborne iron ore demand to peak in 2016," Lelong and Cai wrote in the report titled 'Survival of the Fittest'. "Chinese steel consumption has already overshot and it will contract until it reaches a sustainable rate."
China's economy grew 7 percent in the three months through March, the weakest pace since 2009, according to statistics bureau data on Wednesday. Crude-steel output fell 1.7 percent to 200.1 million tons over the same quarter a year earlier, the first decline over that period in 20 years.
Jimmy Wilson, head of BHP's iron ore business, said last month the majors weren't struggling to sell their products. The industry can expect continued bumps before the market settles at a new equilibrium, Rio's Walsh said on Thursday.
Steel Production
The three biggest miners are expected to continue to expand in spite of lower prices as the alternative, curtailing output and supporting prices, would only help smaller competitors and result in lower market share, Goldman said.
Steel production in China will decline 1.2 percent to 813 million tons this year, before rebounding to 825 million tons in 2016, the bank said. From then on, output will shrink through 2019 to 752 million tons, it estimated. Global iron ore demand will peak at 2 billion tons in 2016, then drop, it forecast, adding that seaborne demand will peak in the same year.
Atlas Iron Ltd., Australia's fourth-largest supplier, is suspending operations in response to the slump, the company said last week. Fortescue Metals Group Ltd. -- the country's third-largest exporter, which isn't in Goldman's top tier -- said on Thursday third-quarter shipments rose 28 percent.
"Slower steel-production growth in China and rampant oversupply, particularly in iron ore, will hold prices down," Moody's said in a report received Thursday. Cuts announced by smaller miners "are dwarfed by production increases expected to exceed 300 million tons for the seaborne market over the next several years."
Before it's here, it's on the Bloomberg Terminal.
LEARN MORE