China Just Made It Easier to Bet Against Its Priciest Stocks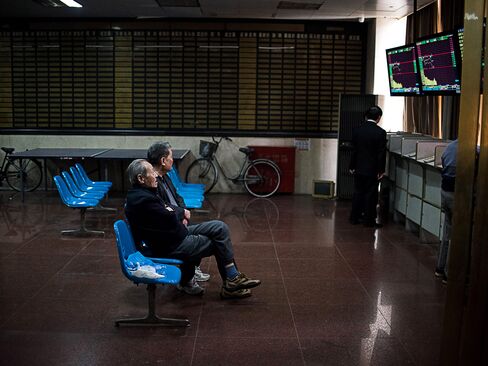 Betting against China's most expensive stocks just got a whole lot easier.
Futures on the small-cap CSI 500 Index started trading on Thursday, giving investors a cheaper way to wager on declines in shares valued at more than twice the level of the benchmark Shanghai Composite Index. The CSI 500 has surged 47 percent this year, versus a 26 percent gain for the Shanghai measure.
The contracts, which come five years after China introduced futures on the large-cap CSI 300 Index, are part of the nation's efforts to allow more sophisticated trading strategies as policy makers open up the $7.1 trillion market to the rest of the world. Bocom International Holdings Co., China International Capital Corp. and Deutsche Bank AG say the new futures will probably weigh on smaller stocks as investors bet valuation premiums over larger companies will narrow.
"Interest should be high," Hao Hong, the chief China strategist at Bocom International in Hong Kong, said in e-mailed comments on Wednesday. "It's a way to lock in gains from high-valuation stocks, as many of these stocks do not have liquidity when there is a selling stampede."
China's smaller shares plunged Wednesday after March economic data trailed estimates. The CSI 500 dropped 3.9 percent, while the the ChiNext index of smaller companies in Shenzhen tumbled 4.6 percent. The Shanghai Composite Index lost 1.2 percent, paring its rally over the past year to 94 percent.
Institutional Investors
More than 100,000 contracts on the CSI 500 traded on Thursday as the gauge rose 1.4 percent at the close. That compares with about 230,000 contracts on the CSI 300.
The CSI 500 has jumped 138 percent since the start of 2013, sending valuations to 52 times reported earnings. ChiNext stocks are even pricier, trading at a multiple of 80 after surging 242 percent. That compares with a price-to-earnings ratio of 20 for the Shanghai Composite.
The equity-index futures -- agreements to buy or sell the underlying index at a preset price and date -- allow speculators to wager on rising and falling markets while also giving stock investors a tool to hedge their holdings. Contracts on the large-cap SSE 50 Index also started trading Thursday.
China has announced a series of market-structure changes in recent months as it seeks to attract more professional investors to a stock market where trading is dominated by individuals. More than two-thirds of new investors in the country have never attended or graduated from high school, according to a survey by China's Southwestern University of Finance and Economics.
Relative Value
The nation began trading equity-linked options for the first time in February, three months after giving international investors unprecedented access to mainland shares through the Shanghai-Hong Kong exchange link.
"Over time, we believe, this will significantly promote the expansion of Chinese institutional investors and downsize the share of retail investors in Chinese capital markets," Yuliang Chang, a strategist at Deutsche Bank, wrote in a report e-mailed on Wednesday.
Investors should shift away from small caps as the start of new index futures and bidding on initial public offerings erodes demand for the shares, Hu Di and He Zhihao, strategists at CICC, wrote in a report dated April 15.
The 30 Chinese IPOs taking orders this week may attract 2.73 trillion yuan ($440 billion) of bids, almost the equivalent of Malaysia's entire stock-market capitalization, based on the median estimate of six brokerages.
CICC recommended "cheap blue chips," including financial stocks. The SSE 50, whose largest members are financial companies such as Ping An Insurance (Group) Co. and China Merchants Bank Co., ended little changed Wednesday. The gauge, which trades at 13.8 times earnings, has doubled over the past year.
— With assistance by Allen Wan
Before it's here, it's on the Bloomberg Terminal.
LEARN MORE