Analyst: Consumers Love Netflix More Than TV, and the Stock Will Go to $900
An analyst conducted a survey of over 2000 consumers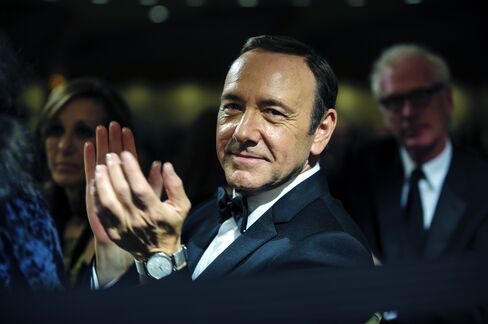 Netflix is surging to all time highs in premarket trading after reporting strong earnings after the market closed on Wednesday. A slew of firms across Wall Street are increasing their price targets today, but so far FBR Capital Markets is by far the most optimistic. The firm raised its price target to $900 a share from $400. Shares closed yesterday at $475.
Here's what FBR analyst Barton Crockett said in the report:
We are upgrading shares of Netflix, Inc. (NFLX) to Outperform and raise our price target to $900 (from $400). The key driver is our proprietary survey work, in collaboration with ClearVoice Research, LLC, which says that domestic Netflix subscribers—nearly 40% of TV households in the U.S.—love the service more than TV. Our survey (conducted in early April across more than 2,000 consumers representative of the U.S. in key demo categories) is consistent with the robust embrace apparent in Netflix's 1Q15 earnings report, post-close Wednesday, April 15. In this outpouring of affection, we see Netflix as very likely to move towards 180 million global subscribers by 2020 (over 60 million in the U.S.) and, over time, enjoy mid-single-digit-plus ARPU growth. This suggests domestic streaming can move slightly above Netflix's 40% contribution margin target by 2020, driving a DCF-supported, per-share value near $300. We see international streaming, with a market opportunity nearly 6x the U.S., worth nearly twice the U.S., supporting our $900 price target.
Netflix is already off to a great start this year, up 40 percent as of yesterday's close.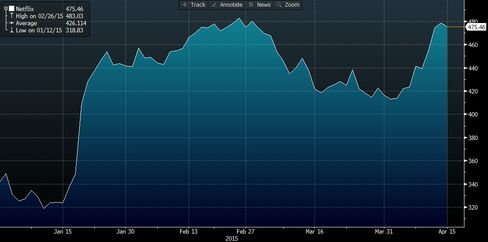 For more details on the company's earnings report, see here.
(Clarification: an earlier post incorrectly characterized the new price target as a 60 percent upside move from yesterday's close.)
Before it's here, it's on the Bloomberg Terminal.
LEARN MORE