South Africa President Zuma Condemns Anti-Immigrant Violence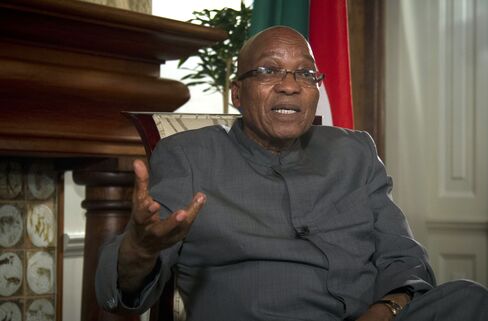 South African President Jacob Zuma condemned anti-immigrant violence that has claimed at least five lives in the eastern port city of Durban since last week and urged locals to co-exist peacefully with foreigners.
"We have seen the anger, we accept that people have been frustrated," Zuma said in an interview with the South African Broadcasting Corp. on Wednesday. "We are calling for calm. This now must stop because we cannot continue killing one another."
South Africa is in the midst of the worst violence against immigrants since 2008, when about 60 people were killed and 50,000 forced from their homes. A wave of attacks in January against mainly Somali, Ethiopian and Pakistani shop-owners in townships around Johannesburg left at least six people dead.
The streets of Durban's city center became a battleground between locals and immigrants on April 14, with police using water cannons and rubber bullets to disperse crowds. More than 1,400 foreigners have fled their homes in Durban and nearby townships, and are being housed in camps set up by the government. At least 74 people have been arrested.
Zuma will give a statement to parliament on Thursday about the attacks, Presidency spokesman Mac Maharaj said by phone. Durban's mayor, James Nxumalo, and premier of the KwaZulu-Natal province, Senzo Mchunu, will lead a march through the city to appeal for calm.
Fears are mounting among immigrants that the attacks may spread to other cities.
'Very Scared'
Foreign shop-owners in Johannesburg's city center shut their businesses on Wednesday, with the police maintaining a heavy presence in the area, Wayne Minnaar, spokesman for the city's police service, said by phone. Amir Sheikh, chairman of the Somalia Community Board of South Africa, said a group of locals threatened immigrant shopkeepers and messages were being circulated on social media networks calling for "mass attacks on foreigners."
Aydelin Sonkari, a 36-year-old Somali who runs a kiosk in Pietermaritzburg, 77 kilometers (48 miles) from Durban, said many in his community are fearful of the violence.
"We are scared, yes, very scared," Sonkari said in an interview from his shop, located on the converted porch of a Victorian-era home. "Last night, when I closed up, they shouted at me," using a derogatory slang word for foreigners, he said.
"I think they were drunk but always before they would joke with me," he said. "Now, they're angry. It's different, not nice."
Rising Risk
The tension comes against the backdrop of a weakening economy and a 24 percent jobless rate. While the government blames criminals rather than xenophobia for much of the violence, the presence of thousands of immigrants in South African townships has stoked resentment among some locals who see them as competitors for jobs and housing.
Credit default swaps to protect against non-payment over the next five years rose 16 basis points this week to 217, meaning that investors' perception of risk is worsening. The rand weakened less than 0.1 percent to 12.0684 per dollar by 7:50 a.m. in Johannesburg, taking the decline against the dollar this year to 4.1 percent.
Comments by some government ministers and public officials criticizing the influx of foreign-owned shops may also be inflaming the situation, according to human rights groups.
On March 23, the Durban-based Mercury newspaper cited Zulu King Goodwill Zwelithini as saying foreigners were depriving South Africans of economic opportunities and should return home. The king's office said his speech was misinterpreted.
Before it's here, it's on the Bloomberg Terminal.
LEARN MORE