Japan Just Topped China to Be the Top Holder of U.S. Treasuries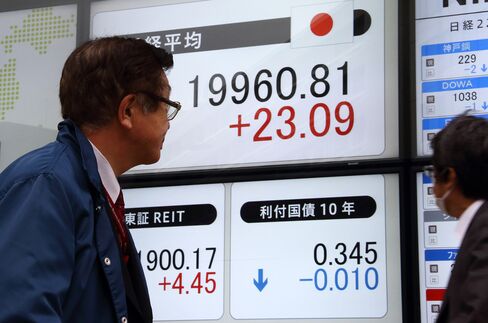 Japan overtook China as the top foreign holder of U.S. government debt for the first time since the global financial crisis amid signs of economic and policy shifts in Asia's two largest economies.
Japan owned $1.2244 trillion of U.S. debt, compared with $1.2237 trillion for China as of February, according to Treasury Department data released Wednesday. Japan's holdings fell $14.2 billion from the preceding month and China's dropped by $15.4 billion.
Even with the declines in the most recent period, Treasuries remain the most favored benchmark asset worldwide because of the U.S.'s unparalleled financing flexibility as the issuer of the pre-eminent reserve currency and as home to the deepest and most liquid capital markets. Japan's holdings of Treasuries increased $13.6 billion from a year earlier, while China's declined $49.2 billion.
"All things considered, you have a more liquid, higher-yielding paper," said Stanley Sun, a New York-based strategist at Nomura Holdings Inc., one of 22 primary dealers that trade with the Federal Reserve. "I wouldn't be too concerned about the selling in February. Yield levels were low at the end of January."
Slower Growth
At the same time, signs of capital outflows are mounting in China as economic growth slows, which reduces the need for authorities to buy dollar assets to keep the yuan from strengthening too much. In Japan, the central bank has embarked on record monetary easing to end years of deflation, flooding the financial system with money and resulting in a weaker yen and interest rates close to zero.
"The dynamic between Japan and China has shifted, in part due to foreign-exchange-reserve needs and the currency dynamics between the two countries," said Edward Acton, a U.S. government-bond strategist at RBS Securities Inc. in Stamford, Connecticut, a primary dealer. "It's a global-macro investing signpost."
Treasury future figures are likely to show a resumption of debt purchases by Japan, reflecting the start of the country's new fiscal year, which began April 1, Acton said.
Since December 2012, when Shinzo Abe was elected Japan's Prime Minister on a platform of spurring inflation by weakening the yen, its U.S. government debt holdings have risen $113.2 billion compared with a $3.3 billion increase by China.
The yen has declined 30 percent in value from 82 per dollar to 119 per dollar during that period, while China's yuan is little changed.
Biggest Buyers
China's foreign-exchange reserves slid the most on record in the past three months, data from the nation showed Tuesday, fueling speculation the central bank sold holdings to support the yuan as money flowed out. The reserves dropped $113 billion to $3.73 trillion, the third straight quarterly decline.
China's stake in Treasuries peaked at $1.3167 trillion in November 2013.
China and Japan account for about two-fifths of all foreign ownership of Treasuries, which dropped $56.6 billion in February to $6.16 trillion, the figures showed. Of that total, $4.09 trillion were government holdings.
There may even be some preference among U.S. policy makers to have Japan as the country's largest foreign creditor, given the diplomatic differences that color many aspects of relations between the U.S. and China, according to Gary Pollack, who manages $12 billion as head of fixed-income trading at Deutsche Bank AG's private wealth management unit in New York.
"If you have a nation that has the potential to be an adversary at some point, does that pose a risk?" Pollack said. U.S. officials may prefer that their largest creditor not be "a country that may not be fully aligned with them from a geopolitical point of view."
Before it's here, it's on the Bloomberg Terminal.
LEARN MORE