GM Can't be Sued For Making Faulty Switches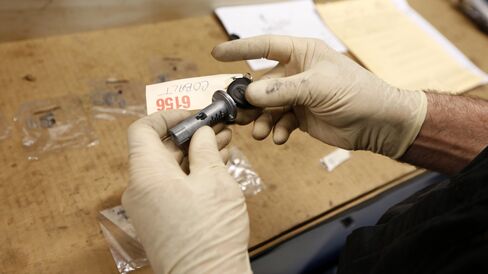 General Motors Co. escaped billions of dollars in liability tied to ignition defects that led to the deaths of 84 people when a judge ruled it can't be sued for the lost value of most affected cars.
The automaker's victory Wednesday was tempered, however. He also said car owners can still sue over its failure to warn of the defects.
U.S. Bankruptcy Judge Robert Gerber had been asked by Detroit-based GM to ban suits claiming $10 billion in lost value for 27 million recalled cars, invoking a bankruptcy shield he approved in 2009 to help the carmaker survive.
"GM is saved from its transgressions prior to the bankruptcy," said Erik Gordon, a law professor at the University of Michigan's business school. "Victims still can sue GM for its actions after the bankruptcy, including allegations that the company continued to cover up what it knew about the switches or didn't recall cars it knew were defective."
Presaged
Gerber presaged his decision to allow some car-owner claims to live on in February. At a court hearing, he expressed doubt about his 2009 decision, saying blanket protection could allow the automaker to get away with alleged misconduct tied to the defects.
GM may have acted "very badly" in delaying recalls of cars it knew might be dangerous, Gerber said at a hearing in New York Feb. 17. If someone "blew it" in 2009, a judge would look to "fix the problem" rather than assign blame, he said.
"My task, obviously confined by the limits of law, is to do what's fair and right," the judge said.
On Wednesday, Gerber said by June 2009, "Old GM had enough knowledge of the ignition Switch defect to be required" to send out recall notices.
Switch Defect
More than 2.59 million vehicles have been recalled for just one type of switch defect, which caused cars to suddenly turn off, disabling critical systems and causing crashes.
Gerber said Wednesday suits for injuries and deaths that occurred before bankruptcy would still be blocked. Post-bankruptcy accident claims weren't blocked by the reorganization.
As much as $10 billion in claims is now "off of the GM tab," said Bob Hilliard, one of the lawyers leading the suits. "Hundreds of victims and their families will go to bed tonight forever deprived of justice."
While the ruling cuts the total amount of money drivers can demand from GM, it allows suits to demand compensation for anything the new company has done alone, including triggering price declines for some cars and failing to warn of the defect.
In an e-mailed statement, GM praised Gerber's ruling upholding its bankruptcy shield, adding that customers pursuing loss-of-value claims still must convince judges they're right.
GM Rises
GM rose more than 2 percent on news of the ruling.
The carmaker may still be on the hook for price declines of $200 to $2,000 on about 10 million cars, said plaintiffs' lawyer Steve Berman, who represents GM customers in Manhattan federal court.
Berman said he would appeal Gerber's ruling protecting GM from liability for its pre-bankruptcy actions.
The case is In re Motors Liquidation Co., 09-bk-50026, U.S. Bankruptcy Court, Southern District of New York (Manhattan).
Before it's here, it's on the Bloomberg Terminal.
LEARN MORE