The piles of cash landing on the balance sheets of big U.S. airlines aren't evenly distributed. In fact, it's mostly a case of cashing in at home—the rest of the world is a scary place, at least in financial terms.
U.S. carriers face a panoply of problems abroad: economic turmoil in Brazil and China, uneven fiscal recoveries in Europe, an isolated Russian economy, and above all, a robust dollar that makes tickets on U.S. carriers less affordable. All of which means that the only "sure" money these days comes from domestic routes and trips catering to American tourists looking to enjoy relative bargains this summer, afforded by a weakened euro.
Delta Air Lines said in its earnings announcement no Tuesday that the strong dollar represents a $600 million "headwind" this year for international revenue, which accounts for about one-third of total sales. The airline plans to slash flights in several foreign markets next winter, with the largest cuts slated for Japan, Brazil, Africa, India, and the Middle East. In some cases, smaller aircraft will replace jumbo jets; other routes will see planes grounded entirely, including a half-dozen 747s this year. That decision means capacity "will not come back into the market next summer," Cowen & Co. analyst Helane Becker wrote in a client note that called the cuts "music to the ears of many investors."
Delta's cuts will take effect in the fourth quarter, representing 3 percent of its total international capacity. Delta also plans to suspend service to Moscow next winter, due to weak economic conditions related to the international sanctions against Russia. Airlines appear eager to curtain exposure to Russia: Earlier this month, Cathay Pacific Airways said it would end flights to Moscow on June 1.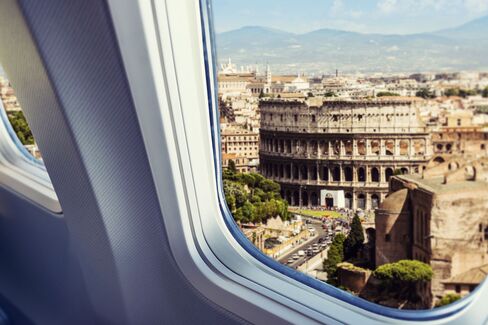 Foreign currency headaches are largely the domain of the Big Three network airlines. Southwest, Alaska Airlines, and JetBlue Airways are largely immune, given that nearly all their revenue is domestic. To combat weak international revenue, capacity cuts are an airline's first and easiest option because big U.S. carriers can coordinate their schedules to Europe and Latin America through joint ventures with foreign partner airlines. More than 80 percent of seats across the Atlantic, for example, are covered by partnerships that are immune from antitrust prosecution, such as those operated by American and British Airways. In the U.S.-Latin American market, nearly 90 percent of the capacity is coordinated, according to Raymond James analyst Savanthi Syth. "Capacity discipline is tougher in the U.S.-Asia market, with only [about] 50 percent of seats accounted for by U.S. airlines," she wrote in an April 10 client note.
Delta shares have fallen about 11 percent this year—despite continued low jet fuel prices—as investors have become concerned about the dollar effect and whether the industry may be nearing its peak earning power in the current economic cycle. Amid news of the cuts, Delta reported a first-quarter profit of $372 million, which the company called a record for the quarter. The first quarter, a post-holiday period in which schools resume and leisure travel wanes, is typically the slowest of the year for U.S. carriers.
Before it's here, it's on the Bloomberg Terminal.
LEARN MORE