Student Debt Strikers Are Demanding Loan Relief, and May Get It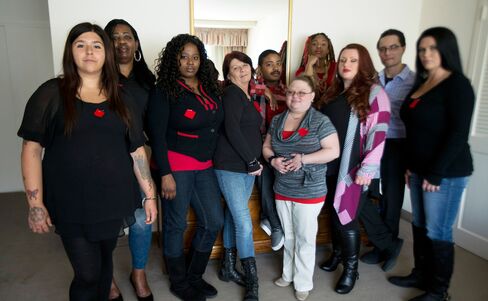 Former Corinthian Colleges Inc. students, who have borrowed billions of dollars through the federal student-loan program, may have their debts forgiven if they can show they have been defrauded, the U.S. Education Department said.
The federal agency late Tuesday fined the for-profit college chain $30 million, finding that its Heald business schools had misled students about job-placement rates. In making the announcement, the agency said it was setting up a system to accept fraud claims and requests for forgiveness -- the first time it has done so on a mass scale.
The department has received demands from at least 250 students to have their loans forgiven as borrowers staged what they called a "debt strike," according to an agency official who asked not to be identified because he wasn't authorized to speak publicly. The government has received only half a dozen such claims over the last 15 years, the official said. Under federal regulations, students may have their loans forgiven in the event of fraud.
Corinthian, based in Santa Ana, California, called the government's conclusions "highly questionable."
Getting Relief
"When our borrowers bring claims to us that their school committed fraud or other violations of state law against them, we will give them the relief that they are entitled to under federal law and regulations," Under Secretary Ted Mitchell said in a statement.
It's unclear how many former students will get relief and whether borrowers from years ago will qualify. The government will consider each borrower claim on a case-by-case basis and students will have to prove both that they have been defrauded and injured by misstatements, the official said.
Corinthian's Heald College misstated 947 placement rates that inflated the employment prospects of graduates, the Education Department said Tuesday. Heald paid temporary agencies to hire its graduates to work at jobs on its own campuses for as little as two days and counted them as employed, the department said.
It also counted placements outside students' field of study, such as an accounting graduate working at a Taco Bell restaurant, according to the agency. The department ordered Heald to stop enrolling students and made two of its campuses ineligible for financial aid. Heald, which offers degrees related to business, law and technology, has 12 colleges across the Western U.S., according to its website.
'Witch Hunt'
The government's findings amount to unproven allegations, Joe Hixson, a spokesman for Corinthian, said in an e-mail. The Education Department appears to be using at least partially flawed data in its analysis, and the company plans to contest the decision, he said.
"To date the process surrounding the government's actions toward Corinthian has had the order, civility and due process of a 16th century witch hunt," Hixson said.
Corinthian, owner of the Everest, Heald and WyoTech for-profit schools, collapsed last summer after the Education Department delayed its access to federal student aid. In November, the company agreed to sell half of its 107 campuses to Education Credit Management Corp., a nonprofit company specializing in debt collection, amid allegations that its schools falsified grades, attendance and job-placement rates.
The sale effectively kept the schools open, so the government didn't have to reimburse students. Corinthian received $1.4 billion in federal aid in 2013 alone.
Corinthian 100
A group of students calling itself the Corinthian 100 vowed not to repay their loans and have met with members of Congress and the Education Department to make their case. U.S. Senator Elizabeth Warren, a Massachusetts Democrat, has led colleagues in calling foul on the Corinthian sale.
Catrina Beverly, 34, earned an associate's degree in medical- office administration from Heald last year, taking on $28,000 in debt. She's still working at a call center, the job she had before she attended Heald and said the career-placement center hasn't been helpful.
"It hasn't worked out very well," said Beverly, who lives in Antioch, California. "I don't see myself moving beyond a call-center environment."
Beverly stopped paying her federal loans about six months ago and said she filed for relief with the Education Department.
While Corinthian doesn't comment on specific students, it employs about one full-time career services counselor for every 100 students, Hixson said.
Federal Aid
Under federal law, schools lose their eligibility for government-backed student aid if they file for bankruptcy or are determined in a judicial process to have committed fraud involving federal funds. If a college closes, students and recent graduates are eligible for reimbursement.
While neither Corinthian nor its employees have been convicted of a crime, the company self-reported multiple incidents of fraud to the Education Department, according to regulatory filings. It has since called the reports "isolated instances."
The company settled a lawsuit brought by California's attorney general in 2007 without admitting wrongdoing and is being sued again there and in Massachusetts. It's been under investigation in 20 states and faces federal criminal probes in three states.
Corinthian schools in California, including Heald, weren't part of the sale to Education Credit Management. The state's Attorney General Kamala Harris refused to sign off on the deal, preferring to pursue restitution for students.
"I applaud the Department of Education for taking strong action to hold Heald College accountable for its egregious misconduct," Harris said in a statement Tuesday. "I urge the department to act quickly to relieve these students from their student loan debt burdens."
Before it's here, it's on the Bloomberg Terminal.
LEARN MORE